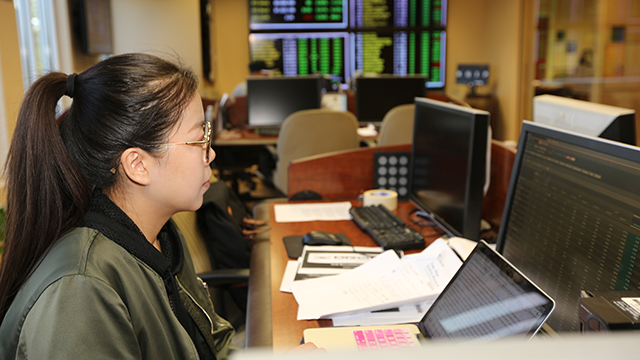 The MBA Experience
If you graduated from a regionally-accredited university with a bachelor's degree, apply today for admission into Stetson University's Master of Business Administration program. The undergraduate degree need not be in business administration. The course of study is designed to accommodate the non-business as well as the business degree holder through the business foundation business courses.
Stetson University's MBA program is designed to provide you with a range of knowledge crucial to business success. The program's focus is providing you with skills and business acumen to be an effective decision maker.
With your Stetson University MBA in hand, you will excel in today's ever-changing global business environment.
The Stetson University M.B.A. is
Flexible - Classes meet weekly in the evenings starting at 6 p.m. and online
Convenient - The program is offered in DeLand and online
Quick - You can complete your degree in as little as one year
Interactive - Our small class sizes mean that you're not just a number. Our professors value engagement in both their physical and digital classrooms.
Accreditation
Stetson University is accredited by the Commission on Colleges of the Southern Association of Colleges and Schools (S.A.C.S.). The School of Business Administration and the accounting program are both fully accredited at the undergraduate and graduate levels by the AACSB International - The Association to Advance Collegiate Schools of Business (AACSB).