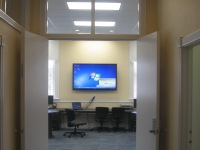 Language Placement Exam
The Modern Language Department is prepared to evaluate proficiency for French, German, Russian and Spanish for placement purposes. For other languages, the means for demonstrating proficiency must be arranged by the student and approved by the Department.
All students who have had two or more years of a modern language in high school and wish to study that language at Stetson must take a placement exam.
If they have taken four years of that language in high school, they will be placed in a 102 level or above, depending on placement test results. Students with fewer than four years of high school modern language will be placed into an appropriate level of that language based on individual case evaluations of their placement scores and years of previous exposure.
For additional details on placement and credit, contact the Chair of the Modern Languages and Literatures Department in Sampson Hall.
If you have less than two years of prior experience in the language you intend to study at Stetson University, you are not required to take the placement test. If you entered Stetson in fall 2017 or later, you should be able to register for the 101-level through the normal registration process. If you entered Stetson before fall 2017, contact the department's Administrative Specialist, Ms. Cathy Burke at cburke@stetson.edu. She will arrange for you to register for a 101-level class.
Online placement will only be used for level placement in language courses.
For French, German, Spanish, or Mandarin Chinese:
During the academic year, you can also take the exam in the Language Commons (Room 129 Sampson Hall on the DeLand campus). Check opening hours.
During the summer, you may take the placement test online. Please follow these instructions to do so:
Note: The test should take no longer than 20-25 minutes. If you exceed the allocated time, your results may be disqualified.
1 Go to webcape.org
2 Use the drop-down menu under "Please choose your account from the list below and then press the Go button" to select "Stetson"
3 Enter this password: hatters2016
4 Select the language in which you wish to take the placement test and then press the Begin button
5 Complete the first four lines of your identifying information; be sure to enter your Stetson 800- ID number and your Stetson email address.
6 Fill out the survey section about your prior experience with the language. If you leave this section blank, you will be required to retake the test. Giving false information will be considered a violation of the Honor Pledge and your results will be thrown out.
7 Complete the placement exam and submit it.
For Russian, you must schedule an interview with the head of Stetson's Program in Russian, East European and Eurasian Studies, Michael Denner, Ph.D.; please email him at mdenner@stetson.edu to do so.
Note: Consulting a print or online source (e.g., dictionary) or a speaker of the language for which you are testing, using a smartphone, or otherwise getting assistance while you are taking the test is not allowed. These acts are a violation of Stetson's Honor Pledge. If you are found to have violated this Honor Code, your score will be disqualified and you will be referred to the Honor Council. Similarly, testing purposefully below your abilities is considered a violation of the Honor Pledge.
The number of questions is not fixed: in order to determine your ability, the exam will ask as many (or few) questions as necessary. As soon as the exam is completed, you will see your results, and they will be immediately transmitted to the Department of World Languages & Cultures for evaluation and processing. Please allow up to three business days for processing.