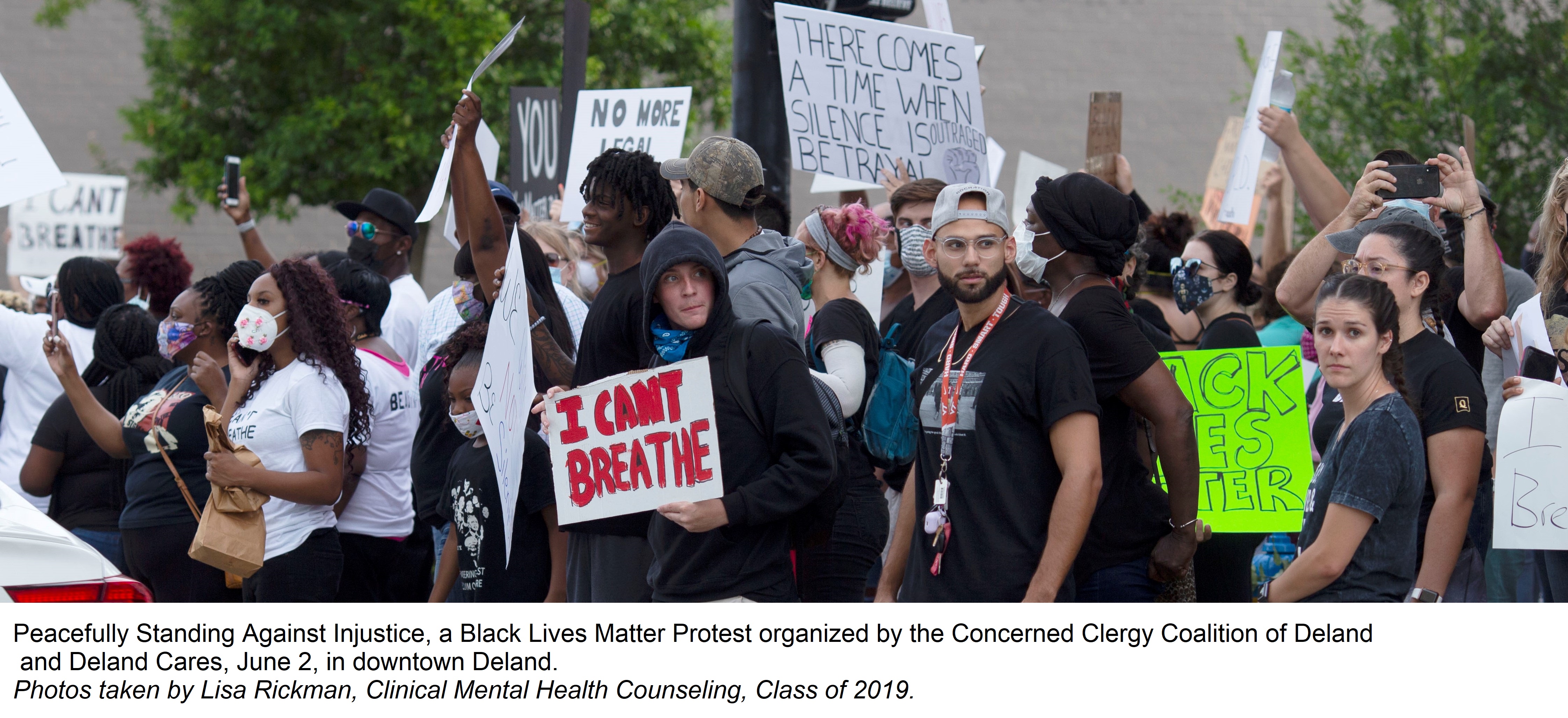 It's Time for Action
Our Counselor Education Department is committed to continual growth and development just as we ask each of you to be while on your journey to becoming a counselor.
Resources for Action
Newsletters
Conferences and Symposiums
Research
Scholarly works by presenters at the Black Mental Health Symposium:
Sharon E. Moore, Sharon D. Jones-Eversley, Willie F. Tolliver, Betty Wilson & Dana K. Harmon (2020).Cultural responses to loss and grief among Black Americans: Theory and practice implications for clinicians, Death Studies, DOI. Document
Day-Vines, N.L. (2007). The Escalating incidence of suicide among African Americans: Implications for counselors. Journal of Counseling and Development, 85, 370-377.
Day-Vines, N.L., Booker Ammah, B., Steen, S., & Arnold, K.M. (2018). Getting comfortable with discomfort: Preparing counselor trainees to broach racial, ethnic, and cultural factors with clients during counseling. Journal for the Advancement of Counselling, 40, 89-104.
Day-Vines, N.L., Bryan, J., & Griffin, D. (2013). The Broaching Attitudes and Behavior Survey (BABS): An exploratory assessment of its dimensionality. Journal of Multicultural Counseling and Development, 41, 210-223.
Day-Vines, N.L., Cluxton-Keller, F., Agorsor, C., Gubara, S., & Otabil, N. (2020). The multidimensional model of broaching behavior. Journal of Counseling and Development, 98, 107-118.
Day-Vines, N.L., & Day-Hairston, B. (2005). The escalating incidence of suicide among African American adolescents. Counseling Interviewer, 37(4), 60-65.
Day-Vines, N.L., & Day-Hairston, B. (2005). Culturally congruent strategies for addressing the behavioral needs of urban African American Adolescents. Professional School Counseling, 8, 236-243.
Day-Vines, N.L., & Terriquez, V. (2008). A strength-based approach to promoting discipline among African American and Latino students. Professional School Counseling, 12, 170-175.
Day-Vines, N.L., Wood, S., Grothaus, T., Craigen, L.,Holman, A., Dotson-Blake, K., & Douglass, M. (2007). Broaching the subjects of race, ethnicity, and culture during the counseling process. Journal of Counseling and Development, 85, 401-409.
A reader of Afri-Centric Theory and Practice: Philosophical and Humanistic Writings of Aminnifu R. Harvey. It is published by Thtid World Press Foundation, 2018. Ed by Aminifu R. Harvey.
Moore-Thomas, C., & Day-Vines, N.L. (2008). Culturally competent counseling for religious and spiritual African American adolescents. Professional School Counseling, 11, 159-165.
Lipscomb, A.E. (2020). You Have the Right to Exclaim Your Pain: Honoring Black Familial Voices Impacted by Police Induced Trauma in the United States . Journal of Ethnic and Cultural Studies 7 (1).
Lipscomb, A.E., Bracy. I, M. Emeka, M., Stevenson, V., Lira, A., Gomez, Y., Riggins, J. (2019). BLACK MALE HUNTING! A Phenomenological Study Exploring the Secondary Impact of Stephon Clark's Murder on the Black Male Psyche. Journal of Sociology and Social Work 7 (1).
Lipscomb, A.E., Ashley, W. & Riggins, J (2019). Sexual Healing: How Racialized Black Males Use Sex to Cope with Stress, Loss and Separation. Journal of Sociology and Social Welfare 46 (1).
Hargett, B. (2020). Disparities in Diagnoses: Considering Racial and Ethnic Youth Groups. North Carolina Medical Journal, 81(2), 126-129. DOI: 10.18043/ncm.81.2.126
Parrish, D., & Hargett, B. (2010). Bridging the Cultural Divide: Innovative Supervision Practices to Impact Disproportionality with African American Clients in Child Welfare. American Humane, 25(1) pp. 99–108.
Armstrong, T. D. (2018). Blossoming hope: The Black Christian woman's guide to mental health and wellness. Durham, NC: Overflowing Hope Media.
Armstrong, T. D. (2016). African-American congregational care and counseling: Transcending universal and culturally-specific barriers. Journal of Pastoral Care and Counseling, 70(2), 118-122.
Armstrong, T. D. (2009). African and African-American traditions in America. In Lucy Bregman, ed., Religion, Death, and Dying, Vol. 3: Bereavement and Death Rituals (Santa Barbara, CA: Praeger Perspectives).
Armstrong, T. D., & Crowther, M. R. (2002). Spirituality among older African Americans. Journal of Adult Development, 9, 3-12.
Armstrong, T. D., Crum, L., Rieger, R. H., Bennett, T. A., & Edwards, L. J. (1999). Attitudes of African Americans toward participation in medical research. Journal of Applied Social Psychology, 29, 552-574.
Armstrong, T. D. (1996). Exploring spirituality: The development of the Armstrong Measure of Spirituality. In R. L. Jones (Ed.), Handbook of Tests and Measurements for BlackPopulations, (Vol. 2, pp.105-115). Hampton, VA: Cobb & Henry Publishers.
Berkel, L.A., Armstrong, T. D., & Cokley, K. O. (2004). Similarities and differences between religiosity and spirituality in African American college students: A preliminary investigation. Counseling & Values, 49, 2-26.
Crowther, M. R., Green, B. L., & Armstrong, T. D. (2004). African Americans, spirituality, and health: The impact on beliefs, attitudes, and behaviors. In I. L. Livingston (Ed.), PraegerHandbook of Black American Health: Policies and Issues Behind Disparities in Health,2nd edition, (Vol. 2, pp. 554-565). Westport, CT: Greenwood Publishing Group.
Hanson, L.C., Armstrong, T. D., Green, M. A., Peacock, S., Elliot-Bynum, S., Goldmon, M.V., Corbie-Smith, G., Earp, J.A. (2013). Circles of Care: Development and initial evaluation of a peer support model for African Americans with advanced cancer. Health Educationand Behavior.40 (5), 536-543.
Murty, K. & Payne, T. B. (2020). Human Trafficking and Sexual Exploitation of Women and Children: The Role of Media in Its Plight and Fight. In A. Esmail, L. Eargle, & P. Lyle (Eds.), Old Problem, New Paradigms: The Tragedies of Human Trafficking and Exploitation (pp. 137-154). Sulphur, LA: Wise Publications.
Payne, T. B. & Murty, K. (2019). Balancing The Odds: Women's Perceptions of Personal Barriers and Life Satisfaction on Transitioning to Work. Los Angeles, CA: Green Legacy Publishing.
Haywood, J. and Payne, T. B. (2017). Meritocracy or Hypocrisy: Microaggressive Perceptions of Black Athletes at Predominately White Institutions. Race, Gender & Class, 24(3/4), 132-144.
Summers, L. (2019). Not the Brady Bunch: School-based strategies to facilitate Post-
Traumatic Growth among urban families. The Urban Educators Trauma Toolkit: Transformative School-based Strategies for Students Exposed to Violence.
King, K., & Summers, L. (2020). Predictors of Broaching: Multicultural Competence, Racial Colorblindness, and Interpersonal Communication. Counselor Education and Supervision, 59(3), 216-203.

Chapman-Hilliard, C., & Adams-Bass, V. (2016). A conceptual framework for utilizing Black history knowledge as a path to psychological liberation for Black youth. Journal of Black Psychology, 42(6), 479-507.