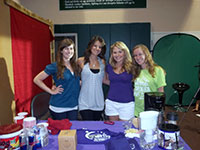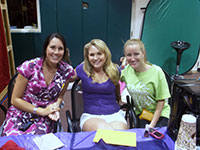 Lambda Pi Eta
About Lambda Pi Eta
Lambda Pi Eta has over 500 active chapters at four-year colleges and universities worldwide. The society was founded in 1985 at the University of Arkansas, became a part of the National Communication Association (N.C.A.) in 1988, and was named the official honor society of the N.C.A. in July 1995.
Founded in 2001, Stetson University chapter's goal is to honor academic excellence in the field of communication studies and to foster growth within both the academic and professional careers of communication studies students and graduates.
Lambda Pi Eta represents what Aristotle described in On Rhetoric as the three ingredients of persuasion: Logos (Lambda) meaning logic, Pathos (Pi) relating to emotion, and Ethos (Eta) defined as character, credibility, and ethics.
Goals
Recognize, foster, and reward outstanding scholastic achievement in communication studies
Stimulate interest in the field of communication studies
Promote and encourage professional development among communication studies majors
Provide an opportunity to discuss and exchange ideas in the field of communication studies
Establish and maintain closer relationships between faculty and students
Explore options for graduate education in communication studies
National Recognition
Lambda Pi Eta is a member of the Association of College Honor Societies, whose mission is to build a visibly cohesive community of national and international honor societies, individually and collaboratively exhibiting excellence in scholarship, service, programs and governance.
Membership Requirements
Complete 60 semester credit-hours (90 quarter credit-hours)
Have a minimum overall cumulative GPA of 3.0
Complete the equivalent of 12 semester credit-hours (18 quarter credit-hours) in Communication Studies
Have a minimum GPA of 3.25 for all Communication Studies courses
Currently be enrolled as a student in good standing, as determined by the institution's policies
Membership is by invitation; however, if you feel you meet the requirements, please contact the faculty advisor for verification.
Contact Information
Jelena Petrovic, Associate Professor of Communication and Media Studies, Faculty Advisor
386-822-2503
Elizabeth Hall room 332