Forever Green
CONNECT. The best way to build connections and get the most out of your Stetson career.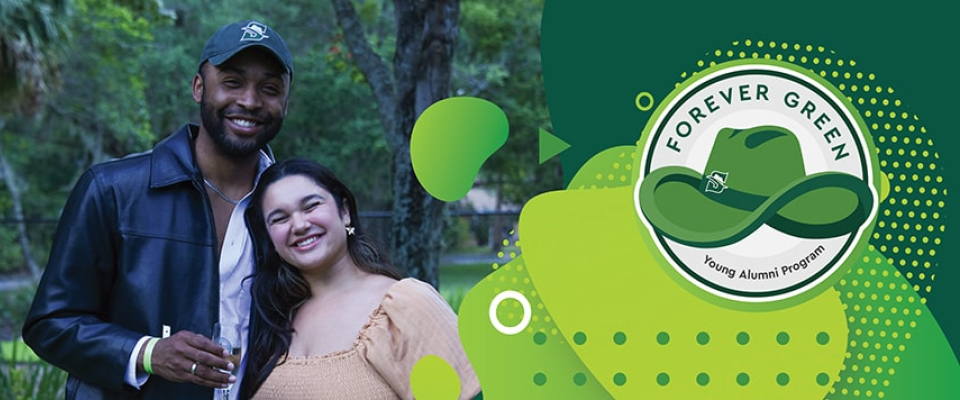 Welcome to Forever Green, Stetson University's Young Alumni Program! Forever Green was built to Connect, Inform, and Engage our young Hatters with Stetson University. If you have received your undergraduate degree from Stetson within the last ten years, this program is for you!
Established by the Office of Alumni Engagement in 2023, this program is designed to increase opportunities for young alumni to return to campus, stay current with students and the university, and continue their path as a Hatter past graduation.
We are seeking interested young alumni to help us plan specialized event programming and other engagement opportunities that will include volunteering, career enhancement and networking.
As a benefit of Forever Green, there is an exclusive discount code for all paid Stetson Alumni Association events specifically for Forever Green Young Alumni. Use code FOREVERGREEN when registering for 10% off event registration. All registration details for each event can be found on our events page.
October 20 - 21, 2023 –

Forever Green Homecoming Events. Register for the free Young Alumni events here!
Discount on all ticketed Stetson Alumni Association events. Use code FOREVER GREEN on event registration forms to receive 10% off! This code does not apply to ticketed Forever Green events.


Discounted Alumni ID Card rate. Undergraduates of the last decade qualify for a discounted annual rate of $25 for the Alumni ID Card. Complete this form to purchase one and start using your Alumni Card benefits.


And there's more! Check out the rest of the Hatter Alumni benefits.
Our staff members are here to help! Feel free to reach out to us with questions or to find out what upcoming events and volunteer opportunities you can be a part of. We also welcome any feedback young alumni have on what they would like to see from this program going forward.
Brittney Cunningham, Assistant Director of Young Alumni and Student Engagement
386-822-7487


[email protected]




Nikki Natriello, Associate Director of Alumni and Community Engagement
386-822-7329


[email protected]




Alex Herron '16, Director of Alumni Engagement
386-822-7482


[email protected]