Save the date for Homecoming 2024!
Events on the DeLand campus will start on Wednesday, October 23, and extend through the weekend of October 25 - 27.
Continue checking the Homecoming website, as more information will be added throughout the year leading up to 2024 Homecoming weekend.
Be sure your contact information is updated to receive the latest news on Homecoming and other events, and follow our social media pages for more updates!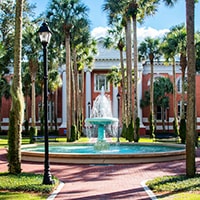 Book Your Stay
Alumni, be sure to check local hotels and make your reservations soon. It will be a weekend you won't want to miss.