Center for Excellence in International Law
The Center for Excellence in International Law has the goal of helping to educate men and women who not only will serve ethically and competently in the practice of law and related professions, but who will contribute to making a better world.

International Law Concentration
International Law LL.M.
International/Cooperative Programs
International Student Exchange
For Foreign Attorneys:
Accelerated J.D. for Foreign Attorneys
Institute for Biodiversity Law and Policy
Institute for Caribbean Law and Policy

International Environmental Moot Court Competition
International Wildlife Law Conference

Summer:
Argentina
England
China
The Netherlands
Spain
Fall:
Autumn in London
Cayman Islands (Intersession)
Spring Break:
Cuba
Stetson's LL.M. in International Law
Learn more about Stetson's LL.M. in International Law program in the above video, which features a discussion about curriculum, objectives, scholarship opportunities, courses, and other topics.
Study Abroad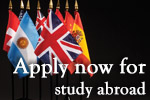 Stetson's study abroad programs provide opportunities for exploring the world while also earning class credit and learning about foreign legal systems.
For more information, see the Study Abroad section at left, contact the International Programs Office, or see Study Abroad FAQ (PDF). Important Note: Stetson community members traveling abroad are required to view a series of international travel safety videos.