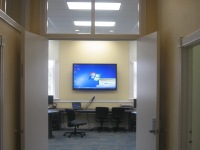 Language Placement Exam
If you plan to continue studying the language that you took in high school at Stetson, you must take the language placement test. This exam will assess your language skills and will allow you to be placed in the appropriate level language course.
For French, German, or Spanish:
-If your major is in the School of Business Administration (SoBA) and you would like to take the language placement test to place out of the SoBA language requirement, you must take the exam in the Language Commons (Room 129 Sampson Hall on the DeLand campus). The Language Commons is open Monday through Thursday from 9 a.m. to 8 p.m. and Friday from 9 a.m. to 4 p.m. during the fall and spring semesters.
-If you are taking the language placement test to determine the appropriate level of your placement in a language class, you may take the test online; please follow these instructions to do so:
Go to webcape.byu.edu
Use the dropdown menu under "Please choose your account from the list below and then press the Go button" to select "Stetson"
Enter this password: hatters2014
Select the language in which you wish to take the placement test and then press the Begin button
Complete the first four lines of your identifying information; be sure to enter your Stetson 800- ID number and your Stetson email address
Complete the placement exam and submit it
For Russian, you must schedule an interview with the head of Stetson's Program in Russian, East European and Eurasian Studies, Michael Denner, Ph.D.; please email him at mdenner@stetson.edu to do so.
Please note: Consulting a print or online source (e.g., dictionary) or a speaker of the language for which you are testing, using a smartphone, or otherwise getting assistance while you are taking the test is not allowed. These acts are a violation of Stetson's Honor Pledge. If you are found to have violated this Honor Code, your score will be disqualified and you will be referred to the Honor Council. Similarly, testing purposefully below your abilities is considered a violation of the Honor Pledge.
The test requires approximately 15 to 25 minutes to complete. The number of questions is not fixed: in order to determine your ability, the exam will ask as many (or few) questions as necessary. As soon as the exam is completed, you will see your results, and they will be immediately transmitted to the Department of Modern Languages and Literatures. Note your results to share with your advisor.
If you never took a high school course in the language you intend to study at Stetson University, then you do not have to take the placement test. Contact Robert Watson, Ph.D., Director of Stetson's Language Commons, at rwatson@stetson.edu, or contact the department's Administrative Specialist, Ms. Cathy Burke at cburke@stetson.edu. They will arrange for you to register for a 101-level class.
You may also contact Dr. Watson with any other questions about the exam.
Further Information
For further information, please contact Robert Watson, Ph.D., at rwatson@stetson.edu or 386-822-7282.