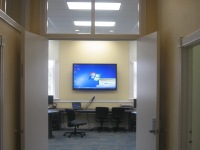 Language Placement Exam
If you are continuing in the language you took in high school, you must take the placement test. The exam will assess your language skills and will allow you to be placed at the appropriate level.
For French, German or Spanish, you must take the exam in the Language Commons (Sampson Hall room 129). The Language Commons is open Monday through Thursday from 9 a.m. to 8 p.m. and Friday from 9 a.m. to 4 p.m.
For Russian, you must schedule an interview with the head of Stetson's Program in Russian, East European and Eurasian Studies, Michael Denner, Ph.D. at mdenner@stetson.edu.
Consulting a print or online dictionary, a speaker of the language you are testing into, or using a smartphone while taking the test is not allowed and considered a violation of the Honor Pledge. If you are found to be using an external resource, your score will be disqualified and you will be referred to the Honor Council.
The test requires approximately 15 to 25 minutes to complete. The number of questions is not fixed: in order to determine your ability, the exam will ask as many (or few) questions as necessary. As soon as the exam is completed, you will see your results and they will be immediately transmitted to the modern languages department. Note your results to show to your advisor.
If you never took a high school course in the language you intend to study at Stetson University, then you do not have to take the placement test. Contact Robert Watson, Ph.D., director of the Language Commons, at rwatson@stetson.edu, who will arrange for you to register for a 101-level class.
You may also contact Dr. Watson with any other questions about the exam.
Further Information
For further information, please contact Robert Watson, Ph.D., at rwatson@stetson.edu or 386-822-7282.