Stetson Votes Team
Get to know the Stetson Votes team.
Kevin Winchell (Advisor)
Kevin Winchell serves as the Associate Director of Community Engagement at Stetson University. He is responsible for creating and leading engagement efforts between the campus and community, directing the Stetson University Bonner Program, supporting campus and community political engagement through student voter registration and outreach initiatives, supervising the CCE's AmeriCorps VISTAs and Bonner Coordinator and working with faculty to integrate community-engaged learning practices into their coursework. He also conducts research and shares national best-practices related to youth civic and political engagement, particularly through organizations such as Campus Compact, NASPA and the Bonner Foundation. Apart from his role in the CCE, Kevin also teaches as an adjunct faculty member in the University's First-Year Seminar and Honors Programs, focusing on the intersections of power, privilege and public policy through project-based learning. Kevin has been state- and nationally-recognized for his leadership and innovation in student civic and political engagement, including the Florida Campus Compact Community Engagement Educator of the Year, the Graham/Frey Civic Award and the All-In Campus Democracy Challenge.
Victoria Ramón (Civic Fellow)
Victoria is a Junior who self-defined her major through the honors program. She is studying Social Justice & Community Engagement with a minor in Spanish. Victoria has been on the Stetson Votes team since the spring semester of her freshman year and is passionate about registering students to vote and engaging them to share ideas with each other. Other than being a civic fellow, Victoria is a Program Lead for the Peer Advisory Council on Title IX, a student ambassador, a member of Hatter Network, Alpha Alpha Alpha and Omicron Delta Kappa. Go democracy!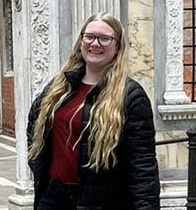 Sarah Joyner (Civic Fellow)
Sarah is a Senior at Stetson University and is working towards her BA in Political Science. In her spare time from academics and Stetson Votes, Sarah enjoys spending time with organizations like Kappa Alpha Theta, Omicron Delta Kappa, Phi Alpha Delta, Psi Chi, and doing a variety of volunteer work. Sarah is very passionate about vote education and voter activism. Go democracy!