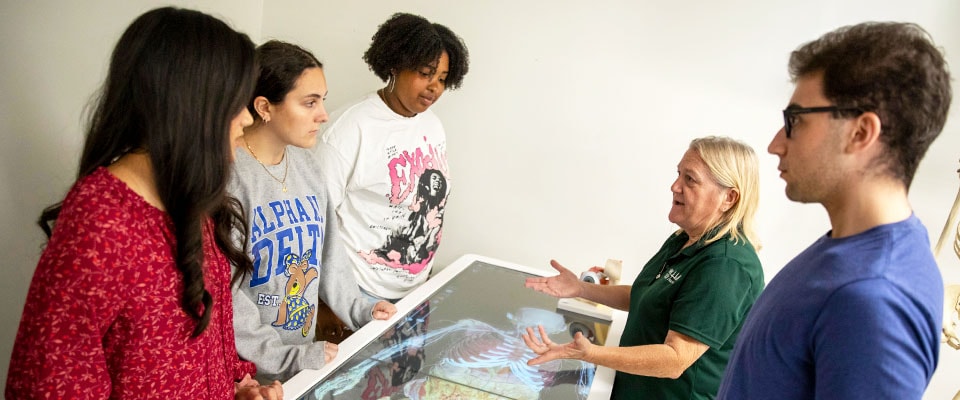 Pre-Health
Stetson's Pre-Health program is an excellent way to ensure your entry into many different health professions. This program will give you the opportunity to become a well-rounded and knowledgeable individual who is ready to make a difference. In this pre-professional program, any major is open to you, so long as certain core science courses are a part of your curriculum for your intended health profession.
Why Pre-Health at Stetson University?
Stetson University will provide you with the required curricula if you are planning for a career in medicine, dentistry, veterinary medicine, and other health fields. Health Professions Advising will also be available throughout your time at Stetson and as an alumnus when applying to health professional schools.
Core courses are in fields such as biology, chemistry, organic chemistry and physics, and courses in the humanities, social sciences, and advanced sciences make for a broad academic background, making you a competitive applicant for health professional schools. Our campus is also community service oriented, with opportunities to volunteer and shadow in your field of interest that are required for admission to a graduate program.
Stetson University has a full-time health professions advisor, Natalie Bittles, who is here to help you along your path to a career in the health professions field even after you graduate. Following your junior year, the Health Professions Advisory Committee compiles a letter that paints a complete picture of you as a person and as a future healthcare provider.
Related Programs:
Stetson isn't just a university where you spend four years and never look back; being in a smaller program gave me the support to make the right career decision, the skills to thrive in a rigorous master's program post-graduation and the confidence that I could succeed at whatever I put my mind to accomplish.
Meghan Muccigrosso, BS '11, M.MS, PA-C, Maitland, FL
My professors at Stetson knew who I was, knew my potential and supported me in my pursuits. I consider my achievements thus far in life as shared victories with all those who have guided me along the way and believed and worked hard to help me reach my goals.
Dane Moran, BS '12, Medical Student at The Johns Hopkins University
Career Outcomes
Pre-Health students have plenty of specific field options to choose from to further their careers. These career plans are available for all pre-health students who wish to pursue graduate studies and professional opportunities:
Dentist
Hospital Administrator
Nurse
Occupational Therapist
Pharmacist
Physical Therapist
Physician
Physician Assistant
Public Health
Veterinarian
Stetson's Health Professions Advisory Committee takes an active role in helping Stetson students prepare for a medical or health career. Members of the committee will advise you in course selection, inform you about the many professional schools and health career options available, assist in setting up internships, help you prepare for admissions tests, and advise you on application procedures.
The current HPAC members are:
Natalie Bittles, PhD, MHA, Health Professions Advisor
Michael S. King, PhD, Professor of Biology, Committee Chair
Richard Medlin, PhD, Professor of Psychology
Michele Skelton, PhD, Associate Professor of Health Sciences
Lynn Kee, PhD, Associate Professor of Biology
Paul Sibbald, PhD, Assistant Professor of Chemistry
Erica Goldstein, PhD, Assistant Professor of Health Sciences
Pre-health courses are taught by the health professions advisor to best prepare you for entry into health professional schools.
PRHP 101: Introduction to the Health Professions
PRHP 102: Applying to the Health Professions
PRHP 297: Pre-Health Internship I
PRHP 397: Pre-Health Internship II
See for yourself why Stetson continues to be a top spot for learning and exploring.
Visit
Learn more about the tools you can tap into to make your college experience affordable.
Explore