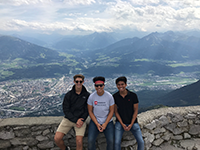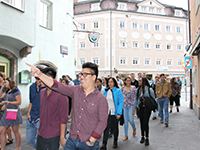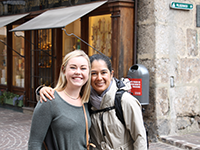 Testimonials
"The profound mark all these European experiences left on me was a weight of personal responsibility as a global citizen."
- Christina Mixon
---
"It was a great course in a phenomenal setting for a world-class experience."
- Kim Norman
---
"Sitting in classes and looking out the window at mountains is not something you can do in Florida. I loved every minute."
- Hayley Karp
---
"This is one of the most thought-provoking, intellectually stimulating classes I've ever had."
---
"Innsbruck is the kind of adventure that reshapes how you view the world and inspires you to see more of it.
"When traveling to various countries, I was able to apply, right away, what I was learning in class. It was the type of hands-on learning I don't normally get to experience."
- Jason Reese
---
"It was pretty awesome to be able to have faculty and students share great conversation over wine at a downtown cafe, or have a teacher tell you where the best stores are in Rome."
- Aubrey Burris
---
"We loved being nestled between the towering Alps. We adored the quaintness mixed with city life. I fell in love with the Alps while in Innsbruck.
"Going to Innsbruck taught me to embrace the diversity of individual cultures. It also taught me to appreciate even the small things, such as food, dress, manners and dance. I came to value my own history and traditions even more after my experiences in Innsbruck.
"I traveled to nine other countries besides Austria. I was able to see the vast diversity of European cultures and customs -from the flat fields of Holland dotted with windmills to the communist-era buildings in Budapest."
- Hanna Leadbeater
---
"With a Eurail pass, you can go pretty much anywhere in Europe. I traveled to Rome, Florence, Amsterdam, Brussels, Vienna and Munich - all by train."
- Matthew Lebron
---
"Most productive class I have taken in college. I feel this class will actually prepare me for the real world."
---
"Take courses in beautiful Austria! Good courses, good scenery."
---
"I learned how to tie all previous business classes together to form a long-range plan and had fun doing it."
---
"This was a very effective course, especially since we had the opportunity to relate our real-life experiences from our traveling excursions throughout this trip."