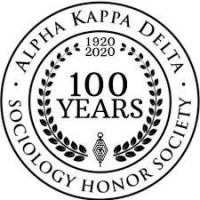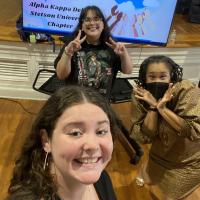 Stetson's Alpha Kappa Delta Chapter
Alpha Kappa Delta
To study humankind for the purpose of service
Alpha Kappa Delta strives to promote the study of social issues and serve humankind, while at the same time providing an extracurricular outlet for students interested in the study of Sociology. We sponsor lectures, career fairs, movie nights, and participate in community service efforts.
Why should you join?
Enhance your resume
Get involved in major or minor
Attend informative luncheons
Get advice on educational opportunities and career planning
Receive a membership certificate
Participate in a variety of national, regional, and local activities of the society
Requirements
One-time $50.00 Membership Fee (lifetime membership and one-year subscription to scholarly journal Sociological Inquiry)
Eligibility to be invited to join AKD is based on a 3.0 cumulative GPA, a 3.3 GPA in Sociology courses, and at least 4 completed courses in Sociology
For more information, contact Nicole Banton, PhD.