Part-Time Staff Directory
Grace Hockenberry, MA, Registered Mental Health Counseling Intern, Part-Time Counselor
Grace joined the Stetson University Counseling Services as a Graduate Counseling Intern in January 2021. Upon graduation, she transitioned into a staff role as the Part-time Registered Mental Health Counseling Intern. Due to her experiences with mental health, she is extremely passionate about helping clients who are coping with issues of depression, anxiety, stress, self-esteem and trauma. She is also excited about collaborating with clients during their journey through their college experience and transition through young adulthood. She believes in using an integrative, holistic, and multicultural approach with her clients in order to better understand and assist them with their unique concerns. Outside of work, Grace enjoys spending time with her husband and fur babies, listening to music/podcasts, watching TV, and reading.
Education
MA, Clinical Mental Health Counseling, The Chicago School of Professional Psychology
BS, Psychology, Florida State University; Minor: Classics
Licensure/Training and Certification(s)
Registered Mental Health Counselor Intern IMH22014
Current Clinical Supervisor:
Ami Crowley, EdD, NCC, ACS, ICADC, MCAP, CDBT, BC-TMH, LPC, LMHC
Licensed Mental Health Counselor, State of Florida, MH 12684
BIPOC Brainspotting Phase 1
Psychological First Aid Online Training Certificate
Telehealth for Mental Health Professionals: 2-Day Distance Therapy Training Certificate
QPR Trainer
Primary Therapeutic Approach(es)
Psychodynamic Therapy
Brainspotting
Cognitive Behavioral Therapy
Person-Centered Therapy
Multicultural Counseling
Reality Therapy
Solution-Focused Therapy
Interest Areas
Trauma
Depression
LGBTQIA++
Anxiety and Stress
Self-care
Self-Esteem
Multicultural Counseling
Young Adults
Group Therapy
Career Exploration
Grace Korley, BA, Graduate Counseling Intern
Grace (she/her) joined Stetson University Student Counseling Services in August 2022 as a Graduate Counseling Intern. She is currently enrolled in the Clinical Mental Health Counseling Master's program at Rollins College and is pursuing a concentration in Family and Relationship Therapy. Grace is a 200hr Registered Yoga Instructor who has advanced teacher training and specialization in trauma-conscious yoga (Yoga for Mental Health, Trauma, Addiction, and Traumatic Brain Injury). She enjoys incorporating elements of mindfulness into her approach to counseling. Her approach to counseling considers the intersectional nature of lived experience and the ways in which our multi-layered identities inform our impression of ourselves. Grace hopes to empower clients to look to their personal experiences as a source of resilience. She believes every person has the capacity for personal growth and change if they so desire it. Grace has a love of social justice advocacy and considers it an essential part of her role as a counselor. In her spare time, she enjoys reading, running, yoga, and walking her aussiedoodle, Ava.
Education
MA, Clinical Mental Health Counseling, Rollins College (in progress; expected May 2023)
BA, English Literature, University of South Florida; Minor: Women's and Gender Studies
Licensure/Training and Certification(s)
Psychological First Aid Certificate
C.A.L.M.-Counseling on Access to Lethal Means
Introduction to Incident Command System, ICS-100
Baker Act and Suicide Prevention Training Certificate
Safe Zone Training
Florida Council Against Sexual Violence, Advocacy Core Training
Gottman Method Couples Therapy, Level 1
Telehealth for Mental Health Professionals: 2-Day Distance Therapy Training Certificate
Interest Areas
Multicultural Counseling
LGBTQIA++
Identity Development
Anxiety and Stress
Trauma/ Racial Trauma
Mindfulness
Neurodiversity
Self-esteem
Strength and Resilience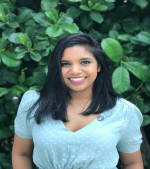 Stephanie Mohammed, BS, Graduate Counseling Intern
Stephanie joined Stetson University Counseling Services as a Pre-Practicum Trainee in November 2020 to assist with our Outreach Program and rejoined the team as a Graduate Counseling Intern in August 2022. Stephanie has volunteered with the Crisis Text Line as a crisis counselor for almost 4 years gaining valuable experience in basic counseling skills and training. Through volunteering her time helping others in crisis, she has found an interest in working with the college community. As a person of color, she understands the importance of diversity and inclusion in both outreach and counseling services on college campuses. Stephanie approaches counseling through an individual and holistic lens, using practices tailored to each client's unique life experiences and cultural identities. Her goal is to create a warm and non-judgmental safe space where everyone can be their true authentic selves. She believes that each person is the expert of their own life, that is why it is important to work collaboratively with each individual on their goals in therapy.
Education
MA, Clinical Mental Health Counseling, Rollins College (in progress; expected May 2023)
BS, Psychology, University of Central Florida
Licensure/Training and Certification(s)
Trained Crisis Counselor - Crisis Text Line
C.A.L.M.-Counseling on Access to Lethal Means
Baker Act and Suicide Prevention Training Certificate
Psychological First Aid Certificate
Introduction to Incident Command System, ICS-100
Marchman Act Basics
Interest Areas
Trauma
Depression
Anxiety
Multicultural Counseling
Self-Care
Mindfulness
First Generation College Students