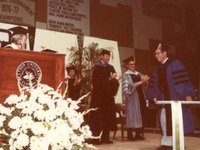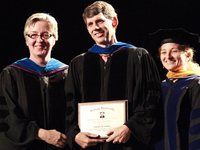 William Hugh McEniry Award for Excellence in Teaching
In 1974, under John E. Johns' presidency, Stetson University established the William Hugh McEniry Award for Excellence in Teaching to honor the memory of former dean of the university, William Hugh McEniry, who was credited with providing academic leadership for the university in the post-World War II era. Specifically, he was cited for his instrumental role in restructuring the curriculum, for strengthening the faculty and academic standards, and for elevating the prestige of the university.
Dr. McEniry was born in Bessemer, Ala., in 1916. He earned his bachelor's degree in 1937 from Birmingham Southern College, his master's degree in 1940 from Vanderbilt University and his doctorate in 1942 from Vanderbilt University. He came to Stetson University in 1940 as an assistant professor of English. While at Stetson University, Dr. McEniry served as chair of the English department and humanities division, dean of the College of Liberal Arts, and acting dean and later dean of the university. Dr. McEniry left Stetson University in 1967 to accept a position as vice chancellor for academic affairs at the University of North Carolina-Charlotte, where he remained until his death in 1974. J. Ollie Edmunds, president of Stetson University during Dr. McEniry's years at Stetson, lauded him as one of the finest academic administrators the university has ever had. It was upon his death that President Johns established the McEniry Award as a specified, endowed grant from an anonymous fund. Considered the university's most prestigious award, it is based on "the highest attainment of teaching excellence as personified by Dean McEniry."
The William Hugh McEniry Award for Excellence in Teaching is awarded each year at the Commencement ceremony in DeLand. The names of all past recipients are commemorated upon a bronze plaque displayed in Elizabeth Hall.
Eligibility, Nominations, and Selection
Recipients of the award must be full-time faculty members on the DeLand campus as defined by the Faculty Senate Bylaws. A faculty member cannot receive the award twice within a six-year period. Excellence in classroom teaching is the primary criterion, though other factors, such as intellectual growth, professional competency, academic activities outside the classroom and service to students and the university as a whole may be considered.
Each spring semester the Faculty Senate appoints the McEniry Promotion and Nomination Committee. The committee announces the opening of award nominations and the nomination process, welcoming nominations from faculty and students. At the close of the nomination period, the committee will review all nomination and prepare a summary report for the McEniry Selection Committee, which then selects the recipient.
History of Recipients
2016-17: Daniel Plante, Professor of Mathematics and Computer Science
2017-18: Megan O'Neill, Associate Professor of English
2018-19: Craig Maddox, Associate Professor of Music
2019-20: Rajni Shankar-Brown, Associate Professor of Education
» Please note recipient titles are listed based on the date of the award and may not reflect current titles.