Outstanding Young Alumni Award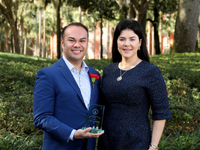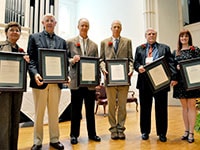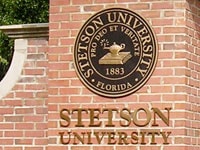 The Outstanding Young Alumni Award is presented to one alumni of Stetson University who is 35 years of age or younger. The award recognizes contributions to society, to a profession or to Stetson University. Recipients must demonstrate significant accomplishment or promise in their fields; leadership; or civic, cultural or charitable involvement.
Select the dates below to view award recipients and their bios.
Brian Rodriguez '15, MBA '16
A proud second-generation Cuban-American born and raised in Miami, Brian is the eldest of three brothers— Manuel Rodriguez '16 and Michael Rodriguez '18 — and is a double Hatter (BM '15 & MBA '16). While at Stetson, Brian was heavily involved in both the School of Music and School of Business Administration and participated in extracurricular activities both on and off campus—Phi Mu Alpha, Alpha Kappa Psi and various community church choirs.
Upon graduation, Brian was determined to make his dreams a reality and thus, took to the seas with Viking Cruises. Having studied voice performance with Dr. Craig Maddox, Brian performed on Viking ships as a lead male vocalist in a variety of musical styles from classical to pop-rock, celebrating the music of the Rat Pack, ABBA, The Beatles and more. He was inspired to pursue and serve in the role of assistant cruise director, where he gained more administrative insights into behind-the-scenes operations. Soon after, the opportunity of a lifetime presented itself, his dream job...Brian was promoted to the senior management role of cruise director.
He became the youngest cruise director for the world's leading premium ocean cruise line, headlined his own solo cabarets (Bel Canto & Il Sogno) and was beloved by guests and fellow crew members.
In five years, Brian visited 82 countries and helped create fond memories for thousands of guests. Most recently, Brian has taken a leave from sailing and now serves as a manager of Production Operations (Sea) in New York City with RWS Entertainment Group, a world-renowned, international entertainment and experience provider. Brian has participated in countless admissions events for Stetson, both in person and virtually, helping to recruit the best and brightest students, and also performed an online concert in 2020 for the Stetson Alumni Association alongside his brothers. He prides himself on leading with kindness, influencing positive change and helping those around him to feel seen, valued and appreciated. Humbled and honored to be the recipient of Stetson's Outstanding Young Alumni Award for 2022, Brian is eternally grateful to his family, friends and loved ones for their support and unconditional love in all things.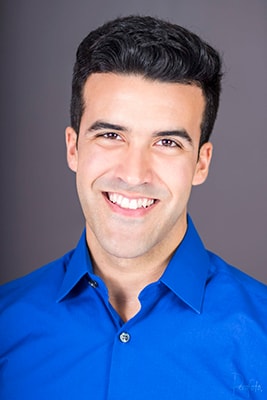 Bartholomew "Bart" Sheard '09
After graduating, Bart moved to Washington, D.C., to serve in the AmeriCorps VISTA program at Sasha Bruce Youthwork, a non-profit that provides emergency shelter and counseling programs to homeless and at-risk youth. At the end of his service he was hired full-time as a development associate, raising program funds through state and federal grant opportunities.
In 2012, Bart enrolled at George Washington University Law School (GW Law) in Washington, D.C., where he focused on labor and employment law. He contributed to the school's public contracts law journal and served on the Moot Court Board.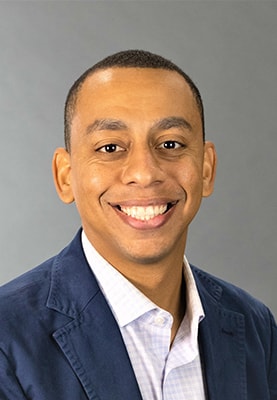 2021 - Brittany Green Gloersen '08, JD '11
2021 - Elizabeth Triece '19
2020 - Courtney Williams Edgcomb '12
2020 - Derek Jansante '11
2019 - Peter Urscheler '06
2018 - Camiel M. Canters '10
2017 - Kristina Tsipouras Miller '07
2016 - Corey S. Kluber '09
2015 - Heather R. Grove '11
2014 - Isa Marie Adney '09
2013 - Lauren L. Hill '08
2012 - Avantika Hari Agrawal '02
2012 - Amber DeChambeau Bragg '02
2011 - J. Tyler Herbert '06
2011 - Kelly Robbins White '03
2010 - Wesley L. Whatley '02
2009 - Sara E. Dodson '02
2009 - Matthew H. Morton '06
2008 - Katherine L. Rhorer '98
2007 - Sara E. Cotner '99
2006 - Bryan C. Hains '95
2006 - Laura Dunifon Kicklighter '95
2005 - Andy A. Dehnart '99
2005 - Jane Fleming Kleeb '95
2004 - Gerard K. Marino '98
2004 - Stephanie L. Todd '92
2003 - Jeffery P. Fay '98
2003 - Brian D. Ray '91