George and Mary Hood Award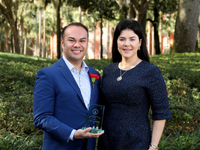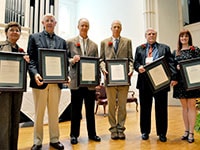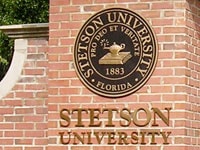 The George and Mary Hood Award is given in honor of the late Dr. George Hood, former dean of students, professor and director of Student Counseling Services, and his wife, the late Mary Turner Hood, a longtime assistant to President and Chancellor J. Ollie Edmunds. It is presented annually to a member or friend of the Stetson University community in recognition of his/her passion for, and commitment and contributions to, Stetson University and its core values.
See the dates below to view award recipients and their bios.
Savannah-Jane Griffin '07, MBA '08
A Stetson double Hatter, Savannah-Jane Griffin '07, MBA '08 began her formal employment with Stetson University after graduation. During her tenure, she oversaw efforts in community engagement, diversity and inclusion, and religious and spiritual life. Savannah-Jane helped elevate Stetson to national recognition by securing the university's 2015 designation by the Carnegie Foundation as a "university making extraordinary commitments to its public purpose." In 2021, Stetson received the Gold Seal distinction from the ALL IN Campus Democracy Challenge for "demonstrating formidable commitment to empowering student voters to participate in our democracy" as a result of record student voter turnout during the 2020 presidential election.
Savannah-Jane was instrumental in Stetson securing a $2 million endowment from the Bonner Foundation for the Bonner Scholars Program, establishing the AmeriCorps VISTA Program and stewarding grant awards to ensure students' civic engagement. She helped launch Stetson's Peace Corps Prep Program and implemented the Bias Education Support Team (BEST). She has helped lead and administer Stetson's annual Values Day, including bringing internationally renowned speakers to campus including Pulitzer Prize recipient Isabel Wilkerson. Savannah-Jane was named a Bonner Foundation National Fellow and received the Florida Campus Compact Community Educator of the Year Award.
Savannah-Jane was named the chief executive officer of the Neighborhood Center of West Volusia in February 2022. Over the past eight months, she's established strategic partnerships in the community to help tackle the affordable housing crisis in Volusia County and secured $200,000 in new grant and donor funds that go directly toward preventing homelessness in Volusia County. This year, her team has assisted over 15,000 individuals seeking homeless prevention services.
Savannah-Jane also serves as a diversity, equity and inclusion consultant and recently designed and facilitated the Inclusive DeLand training series. She has taught a course on global citizenship in Stetson's First-Year Seminar Program and serves on local boards including the Mainstreet DeLand Association, the Advent Health Foundation and the Greater Union Life Center.
Savannah-Jane is a proud mom of Sara-Dean and Forrest, and loving wife to Army veteran and Stetson double Hatter Christopher Griffin '14, MEd '18.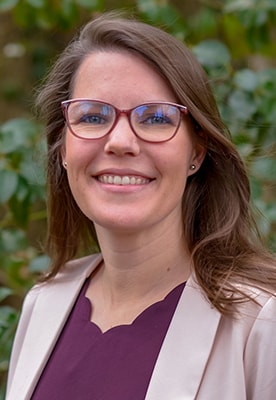 2021 - Jimmie Johnson '68
2020 - The Honorable Luis A. Maldonado '01
2019 - Nancy W. Bayless '62
2018 - Gerald D. Kruhm '57, MEd '72, SPCEN '81 and Betty Furches Kruhm '59, MEd '86
2017 - Steve Roy '75
2016 - Luis Prats '72, JD '81
2015 - Robert K. Sitler
2014 - J. Hyatt Brown, Hon. '92 and Cici Brown, Hon. '07
2013 - Dr. David B. Rinker '62, Hon. '07 and Dr. Leighan Rinker
2012 - William Clay Henderson '77
2011 - Mark Clayton Hollis* '56, Hon. '89 and Lynn Darracott Hollis
2010 - Max Cleland '64
* - Now Deceased