Doyle E. Carlton Award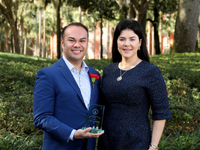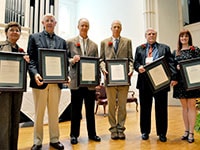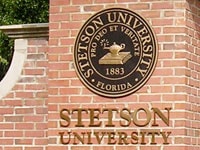 The Doyle E. Carlton Award is presented to a graduate or friend of Stetson University in recognition of devotion to Christian higher education and in appreciation for his/her extraordinary contribution to the life and development of Stetson University, the City of DeLand and the State of Florida.
See the dates below to view award recipients and their bios.
Judy Russell '62
After Stetson, Judy continued her education by earning a master of social work degree from Tulane University. She began her career in Atlanta, as a social worker. Soon after, she returned to Florida where she worked with the Children's Home Society placing older children into adoptive homes.
Becoming active with the First Baptist Church of Jacksonville and wanting to better understand the Bible, Judy attended Luther Rice Seminary to take New Testament Greek. It was there that she confirmed her call to mission work. In 1982, Judy was asked to join the Christian Light Foundation as a social worker in the Philippines. Initially committing for only two years, Judy stayed for 35 years and added two adopted Filipino children to her small family. During her time in the Philippines, it is estimated that over two million people heard the Gospel and most declared their faith in Christ.
Judy retired from active missionary field work and again resides in Jacksonville. She is a partnership development coordinator with Living NEW Ministries International, the new name of Christian Light Foundation Philippines. Judy also serves on the missions strategy team at First Baptist Church. Her primary goal remains to serve and win Filipinos to the Lord Jesus Christ.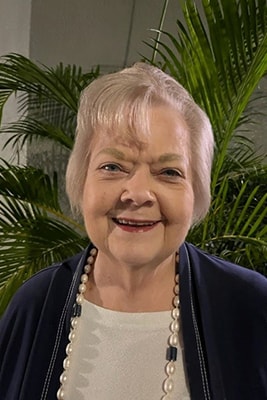 2020 - Janelle Watson '59 and William "Bill" Watson '59
2019 - Priscilla "Prissy" Tunnell '66
2018 - Basyle "Boz" Tchividjian '90
2017 - W. Theodore "Theo" Etzel '80 and Kimberly Lafferty Etzel '80
2016 - Mitchell G. Reddish
2013 - Nestor M. de Armas '73
2012 - James R. Beasley '67, MA '68
2006 - R. Grady Snowden, Sr.* '29, Fred '52 and Patricia Snowden Lane '53 and R. Grady '57* and Barbara Snowden, Jr.
2005 - Clyde E. Fant
2004 - Jefferson Paramore Rogers and Mary Grace Harris Rogers*
2003 - Ann Motley Hallum
2002 - David B. Rinker '62 and Leighan Roberts Rinker '65
2001 - Harold K. Parson* '48 and Rabel Moreman Parson* '48
2000 - Homer J. Hand and Frances "Dolly" Rutledge Hand '49
1999 - Gustave E. Johnson*
1998 - Hal S. Marchman, Jr.* '50
1997 - O. Charles Horton '59
1996 - Charles F. Granger* '55
1995 - John L. Pelham* '50 and Judy Rhodes Pelham '48
1994 - Paul E. Raymond*
1993 - E. Earl Joiner '49
1992 - Mary B. McMahan and Richard A. McMahan, Hon '09
1991 - Pope A. Duncan* and Margaret Flexer Duncan*
1990 - B. Frank Wheeler, Jr.* '43
1989 - Sara Staff Jernigan*, BA '35, MA '37
1988 - Wm. Amory Underhill*, LLB '36, Hon '69
1986 - David H. Harshaw*, Hon '55
1985 - Mary Turner Hood*
1984 - Mark C. Hollis*, BSB '56, Hon '89
1983 - Gilbert L. Lycan*, Hon '83
1982 - Hugh West*, BS '31
1981 - Doyle E. Carlton, Jr.*, Hon '85
1980 - Robert D. Flippo*, Hon '83
1979 - Eugene M. Lynn*, '41, Hon '78
1978 - Arthur N. Morris, Sr.*, Hon '74
1977 - John E. Price*
1976 - Martha Mauney Johns
1975 - Harvey H. Tanner*
1974 - Thomas B. Gillespie*, Hon. '81
1973 - Walter H. Mann
1972 - Angus S. Barlow*
1970 - Earl B. Edington*, Hon. '49
1969 - J. Ollie Edmunds, Sr.*, BA '15
*- Now Deceased