Distinguished Service Award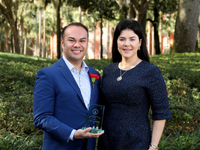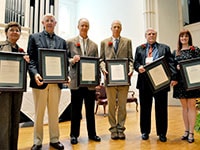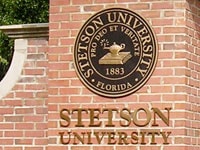 The Distinguished Service Award is presented annually to a graduate or friend of the university in recognition of their commitment to the ideals and objectives of the Stetson University Alumni Association and dedicated service and advancement of the university's goals.
See the dates below to view award recipients and their bios.
Dr. Shawn Copeland '99
Shawn is a clarinetist, multidimensional musician, pedagogue and entrepreneur whose talents have made him a leader in both the performance and musician wellness spaces. Shawn joined the faculty of the Lionel Hampton School of Music at the University of Idaho in 2014, where he is currently an associate professor of clarinet and teaches Alexander Technique and Entrepreneurship classes. He has held faculty positions at High Point University, the University of North Carolina at Greensboro, and Coastal Carolina University.
Additionally, he teaches at Stetson's Clarinet Clinic, held each summer. Shawn performs with the Northwest Wind Quintet and the Hammers & Reeds Trio, both resident ensembles of the Lionel Hampton School of Music at the University of Idaho. He is the principal clarinetist of the Washington/Idaho Symphony Orchestra.
A staunch advocate for new music, Shawn is a founding member of TOSCA DUO, the Velez Clarinet Quartet, Hammers & Reeds Trio and Relevents Wind Quintet. These chamber groups seek to champion new music by creating innovative performances and commissioning projects. His ongoing work with composer and fellow alumnus Dr. Carlos Velez '02 has resulted in a growing body of solo and chamber music for clarinet, including three quartets, two duos, a sextet, a solo suite, and "Pulse"—an album of the composer's works.
The tragedy that befell Pulse nightclub happened while Shawn was at Stetson leading a summer clarinet clinic. Feeling compelled to respond, he worked for two years to secure a grant to commission a work from Dr. Velez that would honor the victims. He then recorded "Pulse" and debuted the work at Stetson University. Since then, he has performed "Pulse" all over the country, discussing the project's background and significance to the LGBTQ community.
Shawn is an accredited teacher of the Alexander Technique and a specialist in Body Mapping. He currently serves as a training mentor with the Association of Body Mapping Education, a sponsoring teacher with Alexander Technique International, and is the co-founder and co-director of Inter-Mountain Alexander Training based in Spokane, Wash. He is the co-author of "Body Mapping for Clarinetists" and "Breathing for Clarinetists." Shawn is a performing artist and clinician for Buffet Crampon U.S.A., Gonzalez Reeds, Inc., and the Silverstein Group.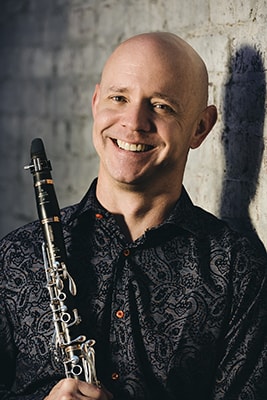 2021 - Primrose Cameron, MS '02
2021 - Michele Skelton '84
2020 - Nancy K. Daves '72
2020 - Richard C. George '76
2019 - William "Ray" Holley '91, JD '97
2019 - Rebecca "Becky" O'Mara '03
2018 - Linda P. Davis '73
2017 - Ronald D. Clifton, Sr. '63, MA '65
2016 - Harlan "Butch" Paul '76
2015 - Kathleen Linehan Graf '76
2014 - Jane Edmunds Novak
2013 - Geoffrey A. Jollay '75
2012 - Sarah "Sally Mathewes Sartain Jane '62
2011 - Betty Drees Johnson '59, MA '62
2009 - H. Douglas Lee and Margaret Easley Lee
2004 - Michael R. Fronk '74
2003 - Michael W. Raymond* '68
2002 - Thomas E. Stringer, Sr., JD '74
2001 - Gary A. Meadows '59, MA '65
2000 - Dennis C. McNamara '44
1999 - Joseph J. Master* '58
1998 - Lowell Edwin Renfroe
1997 - Glenn N. Wilkes '81
1996 - Sandra BeVille Furches '72 and John W. Furches '70
1995 - Janelle Bozard Latour '78
1994 - Gloria Hall Edmondson '80 and Graves Edmondson, Jr. '50
1993 - Thomas P. Prince '67
1992 - Mark C. Hollis* '56
1991 - William M. Roberts III '66
1990 - Wendell N. Jarrard, Sr.*
1989 - George R. Williams, Sr.*, MA '64
1988 - Sally Igo Gillespie, MA '65
1987 - Margaret Flexer Duncan* and Pope A. Duncan*, Hon '87
1986 - Paul E. Raymond*, Hon '82
1985 - Marie Dawson*
1983 - B. Frank Wheeler, Jr.*, BA '43, Hon '83
1982 - Barbara Rowe*, MA '42 and Etter McTeer Turner*, BA '35, MA '36, Hon '83
1981 - John L. Pelham*, BA '50, Hon '76
1980 - Kenneth P. Kirchman*, BS '58, Hon '80
1976 - Margaret Linzel Walker*, BA '42
*: Now Deceased