Distinguished Alumni Award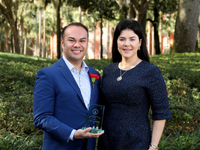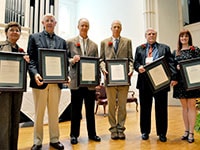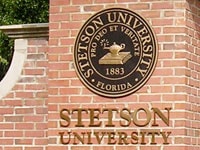 The Distinguished Alumni Award is presented annually to up to two Stetson University alumni who, through outstanding achievements in their lives and professions, have brought distinction and special recognition to Stetson University.
See the dates below to view award recipients and their bios.
Randall Elliott '63
After graduation and ROTC at Stetson, Randy was assigned to Europe as a nuclear weapons officer. He soon became aware that the famed 101st Airborne Division was deploying to Vietnam, so he volunteered to deploy with the "Screaming Eagles." As a captain, he was given command of an infantry company (about 120 men, four platoons).
Randy fought in Vietnam for 17 months, was wounded twice and received numerous awards for valor. He was medically evacuated and joined the reserves after being released from the hospital. He subsequently joined the State Department and served as a Middle East expert.
Called to active duty for Desert Storm, he commanded the Kuwait Task Force charged with rebuilding Kuwait. Success here ultimately led to his being promoted to brigadier general.
Randy's military awards and decorations include the Legion of Merit, three Bronze Star Medals, a Purple Heart, a Meritorious Service Medal, six Air Medals, a Humanitarian Service Medal, and a Parachutist Badge.
Randy also has a master's degree in Middle East international relations from the University
of Maryland and a doctorate of Middle East international relations from George Washington University. He later retired from the Army and started his own construction company. Randy and his wife now live in South Florida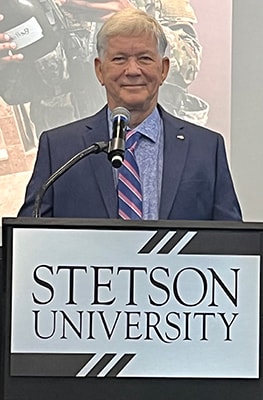 Cassandra Kellam Jackson '84, JD '96
Cassandra has been the City of Tallahassee's city attorney since 2018 and manages an in-house legal team of 25 city employees, including 10 attorneys. Prior to her appointment, she served as deputy city attorney for two years.
Cassandra received bachelor and juris doctorate degrees with high honors from Stetson University. Since being admitted to the Florida Bar in 1987, she has devoted her career to working as a public servant for local and state governments. She has served as an assistant city attorney for the cities of St. Petersburg, Lakeland and Tallahassee, and assistant county attorney for Leon County, specializing in labor relations, personnel and employment discrimination matters.
In 1998, she was appointed by Governor Lawton Chiles as a commissioner on the Florida Public Employee Relations Commission and was subsequently appointed as deputy general counsel to the Florida Department of Management Services.
In 2015, Cassandra joined a unique group of Florida attorneys when she became a Florida Bar board-certified specialist in city, county and local government law. Members of this board represent less than one percent of all licensed attorneys in Florida. Among other honors, she was the 1993 recipient of the Florida Association of County Attorneys President's Award.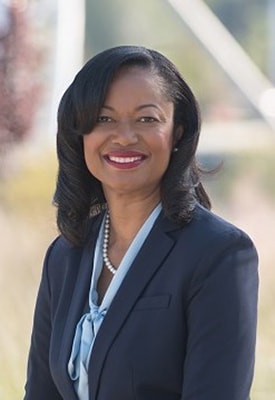 2021 - Shaundra Kellam Lewis '95
2021 - Thomas Rebman, MEd '11
2020 - Steven Alexander '85
2020 - Kimberly Bonner '86
2020 - Yvonne Chang, MBA '09
2019 - Gino Santos '82
2018 - Andrew Daire '91, MS '93
2018 - Pamela Epting '86
2017 - Julia Nesheiwat '97
2017 - Charles A. Wolfe '85
2016 - Leopoldo "Leo" Pujals '73
2015 - Alethea Bonello '98
2015 - Todd DuBosq '01
2015 - Robert L. Moore '63
2014 - Nsaa-Lya Kihunrwa, MBA '03
2014 - Anne Greene Solomon '63
2013 - H. Frank Farmer '64
2013 - Kaye Wachsmuth '66
2012 - Chris K. Brigham '77
2012 - Richard W. Cheston '79
2012 - Shirrel Rhoades '64
2011 - V. Inez Archibald, MA '85
2011 - Laurette T. Koellner, MBA '80
2011 - Jim Shore '77, JD '80
2010 - Jane E. Eckert '70
2010 - Lewis M. Kling, MBA '71
2010 - Michael H. Yeargan '69
2009 - William C. Gaventa, Jr. '69
2009 - Gordon H. "Nick" Mueller '61
2008 - F. Amos Bailey '79
2008 - Shephard W. Hill '75
2008 - James W. Lea '64, MA '65
2007 - Emory E. "Pete" Dunn '72
2007 - George C. Edwards III '69
2007 - Timothy O. Olagbemiro '71
2006 - Angelita S. Floyd '74
2006 - Robin Marino '76
2006 - David S. Marsh '75
2006 - Joe Negron '83
2005 - Cesar Gonzmart '41
2005 - Lois Thacker Graessle '39
2005 - R. Dean Hollis '82
2005 - Jon D. Solomon, MBA '90
2005 - Bingham L. Vick '66
2004 - Bruce Berkowitz '76
2004 - J. Craig Crawford '78, JD '81
2004 - Amy Horton ''77
2004 - Carroll E. Lewis '53
2004 - William J. Schneider '66
2003 -J. Barry Griswell, MBA '72
2003 - Lawrence R. Johnston '72
2003 - Willa Dean Lowery '48
2002 - Gwendolyn Azama-Edwards '70, MA '83
2002 - Jill K. Jinks '79
2002 - Elizabeth Walker Mechling '67
2002 - Jay E. Mechling '67
2002 - James Nemec '32, LLB '36*
2001 - M. Lisa Carlton '86
2001 - Elizabeth Bergin Johns '62
2001 - Richard W. Pearce '55, JD '55, MA '57
2001 - Nancy Naylor Rue '73
2000 - William Clay Henderson '77
2000 - Joseph W. Landers, Jr. '64, JD '70
2000 - George H. Shriver '53
1999 - Diane M. Disney '63
1999 - M. Jean Greenlaw '62, MA '65
1999 - William T. Newsome III '74
1998 - William L. Cypress '65
1998 - Edward C. Furlong, Jr. '38, MA '41, Hon. '83*
1998 - Mel H. Gregory '58
1998 - David B. Rinker '62
1998 - Leighan Roberts Rinker '65
1997 - Wendy Harmer Baldwin '67
1997 - Lee R. Cole '67
1997 - Milton O. Jones '55
1997 - George Winston '71
1996 - Leroy K. New '42
1996 - William J. Roberts '53, MA '57, LLB '58
1995 - A. Dano Davis '68, Hon. '90
1995 - Herbert E. Phillips '36
1995 - Arthur P. Sullivan '62
1995 - Teruo Tanaka, MA '59
1994 - J. Ollie Edmunds '25*
1994 - Bruce R. Jacob, JD '59
1994 - Kenneth P. Kirchman '58, Hon. '80
1993 - J. Kermit Coble '53
1993 - William D. Jones '51*
1993 - M. Lee McGraw '79
1993 - Dennis C. McNamara '44, Hon. '82, Hon. '86
1992 - Jean F. Dickman '50
1992 - Joseph J. Master '58, MA '58, Hon. '95
1992 - Carolyn Miller Parr '59, Hon. '86
1992 - W. Morgan Patterson '50, Hon. 79
1991 - J. Wendell Crysel '59
1991 - Helen Quincy Woodard '20*
1990 - Frances Rutledge Hand '49
1990 - Murray Sams '49, Hon. '83
1989 - Vanita M. Baldwin '48, Hon. '90
1989 - George R. Borders '61
1989 - Craig T. James '63, JD '67
1989 - Louie L. Wilkinson '48
1988 - Jon L. Mills '69, Hon. '86
1988 - James C. Smith, JD '67, Hon. '86
1986 - Judith M. Dixon '74
1986 - E. Everette Huskey '48
1985 - Thomas P. Prince '67
1985 - Jack D. Woodall '58
1985 - Shelly Crittendon Zwick '63
1984 - Charles B. Bugg '65
1984 - Chris F. Hasty '70
1984 - Lana Jane Lewis-Brent '68
1984 - W. Harold Parham '49
1984 - E. Clay Shaw '61, JD '66, Hon. '02
1983 - Richard A. Beauchamp '63
1983 - Joseph B. Folds, Sr. '37*
1983 - Cecil W. Holley '54
1983 - Barbara Deveaux Holmes '69, MEd '72, Hon. '91
1983 - Howard S. Warner '33*
1982 - Mary Allgaier Dunn, MA '59
1982 - Harry E. Gaylord '36*
1982 - Mark C. Hollis '56, Hon. '89
1982 - Mary McCollough Mauldin '61
1982 - Earnest W. Murphy, Jr. '54, Hon. '94
1982 - R. Grady Snowden, Sr. '29, Hon. '96*
1981 - E. Ross Allen '29
1981 - Jacquelyn Hogue Gentry '58
1981 - David P. Houchens '59
1981 - David B. Legters '31
1981 - Richard D. Pope, Sr. '24
1981 - William A. Watson '59
1981 - Pat T. Wilson '49
1981 - Patricia Maxcy Wilson '47
1980 - Thomas J. Deen, Jr. '48
1980 - Mary Leary 1902
1980 - D. Peter Mazur '52*
1980 - Ernest A. Rano '35*
1979 - James R. Golden '42
1979 - Ralph F. Hansen '29
1979 - Joseph T. Sutton '48
1978 - Cecil C. Bailey '27, Hon. '78*
1978 - Carl M. Kuttler, Jr., JD '65
1978 - Clyde C. McCully '49
1978 - W. Ret Turner '50
1977 - Barbara Rowe, MA '42
1977 - Etter McTeer Turner '35, MA '36, Hon. '83*
1976 - Clarabel Brandon Jett '32*
1976 - William C. Kaleel '56, LLB '59
1976 - Jan J. Wieckowski '50, MA '51
1975 - Thomas R. Horton '49, Hon. '82
1974 - Fran Stewart Carlton '58
1974 - Vassar B. Carlton '37, Hon. '84
1974 - Cartha D. DeLoach '42, Hon. '66
1974 - Harris P. Gravely '44
1974 - Edward B. Henderson '27, MS '28
1974 - Wm. Amory Underhill '36, Hon. '69*
1973 - Priscilla Kauth Griffith, MA '63
1973 - John C. Howell '49, Hon. '79
1973 - Sara Staff Jernigan '35, MA '37
1972 - Grady Crawford '39
1972 - Morris Duane '27, Hon. '65*
1972 - J. Thomas Smith '28
1971 - Walter Auffenberg '51
1971 - Richard T. Dillon, JD '57
1971 - Raymond G. Dunne '53, MA '57*
1971 - David W. Marcell '58
1971 - Ronald S. Spencer '51
1971 - Redden J. Thames '58
1970 - Max Cleland '64, Hon. '77
1970 - Elizabeth A. Kovachevich '61
1969 - Robert E. Jagger '58
*- Now Deceased