Center for Excellence in International Law
Stetson's LL.M. in International Law
Learn more about Stetson's LL.M. in International Law program in the above video, which features a discussion about curriculum, objectives, scholarship opportunities, courses, and other topics.
Explore the World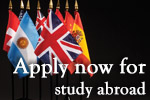 Stetson's study abroad programs provide opportunities for exploring the world while also earning class credit and learning about foreign legal systems.
For more information, see the Study Abroad section at left, contact the Study Abroad FAQ (PDF). Important Note: Stetson community members traveling abroad are required to view a series of international travel safety videos.