People of the Marchman Program
Gregory Sapp, Ph.D.
Professor of Religious Studies; Hal. S. Marchman Chair of Civic and Social Responsibility
Greg Sapp was born and raised in northeast Florida and graduated from a small high school in Keystone Heights. He began his college career at the University of Florida in Gainesville but after receiving his A.A. transferred to Stetson University where he earned a B.A. in Religious Studies. He then earned an M.Div. from Princeton Theological Seminary with an emphasis in the formation of Christian Doctrine. From there he attended the University of Virginia and earned the Ph.D. in Philosophical Theology. He began his teaching career in 1996 at West Virginia University and subsequently taught at Mercer University where he was awarded the Spencer B. King, Jr., Distinguished Professor Award. He returned to Stetson in 2006, and holds the Hal S. Marchman Chair of Civic and Social Responsibility with an appointment as Professor of Religious Studies. He is a husband and father of three children.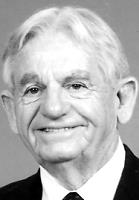 Hal S. Marchman
Central Baptist Church pastor, Daytona Beach; Stetson University Class of 1950
Hal Marchman's life is indeed a powerful model. He was committed to bettering the lives of the marginalized and forgotten. His legacy is the 1993 Florida statute known as the Marchman Act: it provides for "the involuntary or voluntary assessment and stabilization of a person allegedly abusing substances like drugs or alcohol, and provides for treatment of substance abuse." His name also lives on in Stewart-Marchman-Act Behavioral Healthcare (SMA), an institution that provides comprehensive services to east Central Floridians living with addiction, mental illness or both. For many, however, Marchman is best known as the "pastor to NASCAR"; for decades his prayers, ending with his trademark "amen and shalom," started the Daytona 500, and he was always there to comfort injured drivers and their families.
Belle A. Briatico
Hal S. Marchman Program for Civic and Social Responsibility Assistant
Belle Briatico is a Stetson University student pursuing a degree in Elementary Education, a minor in Spanish, and a Certificate of Community Engagement. She is a member of the Stetson University Bonner Program and volunteers regularly in a local elementary school. Belle is passionate about education and is excited about the work she will do as the Marchman Program Assistant.