CEP Team
Pamela Cappas-Toro - Co-Director, Strategic Planning
Pamela Cappas-Toro, who earned her PhD from the University of Illinois at Urbana-Champaign, is an Associate Professor of World Languages and Cultures at Stetson University. While completing her doctoral degree, Cappas-Toro joined the Education Justice Project, a model college-in-prison program that demonstrates the positive impacts of higher education upon incarcerated people, their families and the communities from which they come (2010-2013). In the EJP, she taught numerous ESL, LatinX studies and Afro-Latin American workshops. At Stetson University, she teaches Spanish & Portuguese, Latin American literatures and cultures, and LatinX Studies. Her passion for social justice, community engagement scholarship and commitment to undergraduate education guide her efforts as the co-founder and co-director of the Community Education Project, a liberal arts higher education in prison initiative based in Florida since 2015. She has recently co-written an article on the potential and limits of critical pedagogy in carceral spaces: "Higher Education in Prison: Critical Pedagogy and Incarcerated Student Identities." Her current research explores questions of power in pedagogical strategies for second language acquisition and language usage in carceral classrooms. In 2016, she served as a steering committee member to launch the National Alliance for Higher Education in Prison. In 2017, she was selected as a national finalist for the Lynton Award for the Scholarship of Engagement for Early Career Faculty, sponsored by the Center for Public Service at Brown University.
Andy Eisen - Co-Director, Program Coordinator
Andy Eisen, who earned his PhD from the University of Illinois, is a Visiting Assistant Professor at Stetson University. His first experiences teaching in prison was with the Education Justice Project at the University of Illinois as a graduate student, where he worked closely with a talented group of incarcerated English Language Instructors. In 2015, he co-founded the Community Education Project with two Stetson professors. He has taught three semester-long classes with the CEP and various workshops, ranging from immigration history to transatlantic slavery. He coordinates classes, clearances, and other issues at the prison and recently helped organize the first Gathering of Southern Prison Higher Education Programs. At Stetson University, Eisen is Assistant Director of Honors Program and he teaches in History Department.
Melinda Hall - Co-Director, Curriculum
Melinda C. Hall, who earned her PhD from Vanderbilt University, is an Associate Professor of Philosophy at Stetson University. She co-directs the CEP and focuses on program and course curriculum and assessment. Hall has taught several classes and workshops at Tomoka Correctional, including Philosophy of Disability and Logic. In her research, Hall specializes in bioethics, continental philosophy and the philosophy of disability. In The Bioethics of Enhancement: Transhumanism, Disability, and Biopolitics (Lexington Books, 2016), Hall draws from Michel Foucault to demonstrate that disability is central to debates over enhancement. Hall's work also appears in Disability Studies Quarterly, International Journal of Feminist Approaches to Bioethics and Philosophy Compass, among other venues.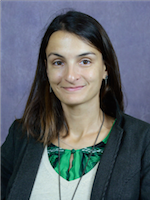 Jelena Petrovic - Co-Director, Faculty and Student Liaison
Jelena Petrovic, who earned her PhD from the University of New Mexico, is an Associate Professor in communication and media studies at Stetson University. In 2015, she co-founded the Community Education Project with two Stetson professors. As one of the co-directors, she focuses on faculty, staff and student engagement in CEP and volunteer recruitment and training. In addition to this work, Petrovic also teaches courses in media studies, migration and identity, cultural studies, interpersonal communication and public speaking at Tomoka Correctional institution. Her research focuses on media representations of national identity and immigration in Europe as well as critical pedagogy in carceral spaces.
Joshua Eckroth - Computing Specialist
Joshua Eckroth earned his PhD at the Ohio State University. He is an Assistant Professor of computer science at Stetson University, where he teaches cybersecurity, big data mining and analytics, artificial intelligence and software engineering. His research focuses on improving computer science education and developing new applications of AI. He concurrently serves as Chief Architect at i2k Connect, a startup focused on using AI to extract information from documents.
Denise Yezbick (Main Editor "More Than Our Blues")
Denise Yezbick earned her PhD in English from Wayne State University. She has taught as an adjunct professor at Eastern Michigan University and Lawrence Technological University. She taught two courses in Tomoka Correctional Institution before CEP's program became accredited—one on American Short Stories and a survey course on Poetry. She currently works on editing projects, which include a French to English translation of Roger Caillois' Pierres (Stones) and Community Education Project's publication More Than Our Blues..
Carley Fockler (Assistant Editor "More Than Our Blues")
Carley earned her master's in creative writing from Stetson University. She is currently working with the CEP to run a creative writing workshop after assisting with "More Than Our Blues," an anthology of creative writing by the CEP students. Carley hopes to raise awareness and be involved in higher education in prisons.
Abigail Ramsbottom (Student Support Fellow)
Abigail earned her BA in Spanish and art history from Stetson University in 2018. In her work with the CEP, Abigail brings her passion for working with adult learners and her belief in free access to educational opportunities for everyone. Her goals are to address classroom and students' needs, provide academic and creative resources to the students, and be a part of a communal and national narrative that re-examines the intentions, actions and outcomes of the current system of incarceration. Aside from working with the CEP, Abigail is also serving as an English language instructor for adults through La Casa Cultural Latina.
Nelson E Quezada (Intern for community outreach)
Nelson is a junior Bonner Scholar majoring in political science and English with minors in history and the Certificate of Community Engagement. He hopes to use his experience in event planning and planning a national conference to assist the CEP in organizing a successful conference in the spring of 2021 to promote higher education in prisons.
Mirrett Saad (Intern and Writing Tutor)
Mirrett is a senior majoring in political science and minoring in journalism and the Certificate of Community Engagement. She is a Bonner Scholar and tutor/writing fellow at the Writing Center. Mirrett is interested in using her community experience to further the mission of the CEP and promote higher education in prisons.