Faculty Fellows
The Stetson Teacher-Scholar model forms the foundation for leadership development at Stetson University. In addition to a diverse faculty professional development program, the Brown Center offers distinctive fellowship opportunities that allow faculty to develop as leaders in teaching and learning and active citizens of the university.
Terence Farrell, PhD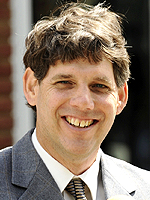 Professor of Biology and Endowed Brown Faculty Fellow
Terence Farrell was born in 1958 and caught ring-necked snakes and red-backed salamanders in his back yard as a child. After becoming a faculty member of Stetson in 1989, he spent much of the next two decades studying pigmy rattlesnakes and box turtles at Lake Woodruff National Wildlife Refuge with Peter May and a dedicated group of Stetson University students. Approximately 20 of these students have published their work. He has also served as department chair and worked to improve Stetson University's science facilities. In recent years he has won both the John Hague Award for outstanding teaching in the College of Arts and Sciences and the William Hugh McEniry Award for outstanding teaching at Stetson University. Dr. Farrell earned a BS degree in biology from Bucknell University, PhD in zoology from Oregon State University and a Postdoctoral fellowship at Stanford University.
Brown Teacher-Scholar Fellows
The flagship program of the Brown Center. The program prepares faculty leaders who will inspire current and future faculty to aspire to excellence in undergraduate learning, teaching, and research. Fellows infuse niche areas of expertise across the Stetson community. Brown Visiting Teacher-Scholar Fellows come from and contribute to a variety of disciplinary and interdisciplinary fields. Proposals for fellows are solicited annually in November.
Provost Faculty Fellows (PFF) Program
Goal: to build exceptional leaders by supporting individual faculty development that enhances university culture and capacities. Responsibilities and appointments vary.
Brown Innovation Fellows (BIF) Program
Brown Innovation Fellows demonstrate cutting-edge innovation across diverse aspects of the teacher-scholar role to foster lifelong excellence in learning. Brown Innovation Fellows learn and build knowledge together and share their work with others.
To learn more about these opportunities and more, visit the Brown Center for Faculty Innovation and Excellence blog.