Youth String Programs
Register Now for Online Group String Classes!
Led by Sophia Lassiter, our six-week group string class series focuses on musical development through theory, aural training, and composition study. Beginner to advanced string players are welcome, and will be assigned to a small group by Mrs. Lassiter based on their experience levels and interests. Classes meet once per week for six weeks online using Zoom.
Private lessons are required to participate in this program. For questions or concerns regarding class content or lessons, please contact Sara Scarpelli.
Summer 2020 Schedule: Classes are held on Mondays, Fridays, and Saturdays starting June 15.
Class days and times: Meeting times will be finalized after students are assigned to a group.
Fee: $100
Location: Zoom
Fall 2020 Registration Coming Soon
The Youth String Orchestra is open to all school-age string students, from intermediate to advanced musicians. This ensemble provides an opportunity for string players to improve their playing skill in high energy, positive environment. Students will focus on their musicianship through the practice and performance of high quality, accessible repertoire.
The students will perform on the stage of historic Elizabeth Hall in a concert at the conclusion of the fall semester. Violin, viola, cello and bass players are welcome. The Youth String experience will foster a love of music for string instrumentalists and teach students the joys of playing with an ensemble.
Fall 2020 Schedule: TBD
Rehearsals: Mondays from 5:00 - 7:00 p.m.
Tuition: $120 per semester
Location: Presser Hall room 349
Spring 2020 Concert: TBD
Fall 2020 Beginner Violin Class Registration Coming Soon
Beginner Violin Class is open to elementary and middle school age students. No prior experience is necessary; this class is designed for students who are new to the violin. The class will teach students the fundamentals of violin study, such as parts of the instrument, technique foundations, and some beginning repertoire as well as solo performance instruction.
Parents or guardians are required to attend the class with their children in order to support a positive learning experience. Private lessons are required to participate in this program. For questions or concerns regarding the class or lessons, please contact Sophia Lassiter.
Fall 2020 Schedule: TBD
Class days and time: Saturdays from 8:00 - 9:00 a.m.
Tuition: $120 per semester
Location: Presser Hall room 349
Spring 2020 Concert: TBD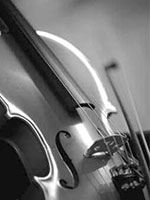 Sophia Lassiter, String Program Director

Sophia Lassiter is a violinist and music teacher originally from New England. She completed her Bachelors in Music Performance at Gordon College in May 2017, where she studied with Sarita Kwok and Susan Kim. She went on to complete her Masters in Violin Performance and String Pedagogy from the University of Wisconsin-Milwaukee in May 2019 where she studied with Darcy Drexler and Bernard Zinck.

In addition to performing and leading community outreach events, Mrs. Pellegrino-Lassiter is actively engaged as a teacher and conductor. She has maintained a full private studio including both face-to-face and Skype students for the last ten years, and has taught at several schools throughout New England: the Upper Valley Waldorf School in Quechee, Vermont, the Academy of Penguin Hall in Wenham, Massachusetts, the String Academy of Wisconsin in Milwaukee, Wisconsin, and L'Escuela Vieau Public School. She also directs the Upper Valley Waldorf School's annual summer music camp program every year, which she created in 2011.
More Information
For more information, please contact our office at communitymusic@stetson.edu or (386) 822-8962.