Youth String Orchestra
Register for Stetson Youth String Orchestra!
The Youth String Orchestra is open to all middle and high school-age string students, from intermediate to advanced musicians. This ensemble provides an opportunity for string players to improve their playing skills in a high-energy, positive environment. Students will focus on their musicianship through the practice and performance of high-quality, accessible repertoire.
The students will perform on the stage of historic Elizabeth Hall in a concert at the conclusion of the fall semester. Violin, viola, cello and bass players are welcome. The Youth String experience will foster a love of music for string instrumentalists and teach students the joys of playing with an ensemble.
Orchestra Retreat and Seating Auditions September 11 - Open to new and returning members!

Retreat time and location: 5:00-7:00 p.m., Presser Hall 202
Fall 2023 Schedule: Rehearsals begin September 25

Rehearsals: Mondays from 5:00 - 7:00 p.m.
Tuition: $125 per semester
Location: Presser Hall, room 202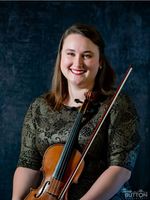 Mary Loos, Director, Youth String Orchestra
Violinist Mary Loos has appeared as a soloist, orchestral member, and chamber musician throughout the United States and abroad. During her time studying Violin Performance under Routa Kroumovitch-Gomez at Stetson University, she performed with the University's Symphony and Chamber Orchestras, as well as appearing as a soloist with the Stetson University Concert Choir in venues across the U.S., including New York City's Alice Tully Hall at Lincoln Center.
After her time at Stetson, she has performed with The Loudoun Symphony Orchestra in Northern Virginia, The Shenandoah Summer Music Theatre Pit Orchestra in Winchester, VA, The Gainesville Orchestra in Gainesville, FL, and The Ocala Symphony Orchestra in Ocala, FL, and is currently serving as the concertmaster for the symphony and the Vice President of
the Board for Volusia Community Arts in Deland, FL.
Mary also maintains an active freelance career throughout Florida performing on different instruments for events ranging from weddings to small conventions.
In the Spring of 2022, Mary returned to Stetson University's Community Music School as the Director of the Youth String Orchestra.
More Information
For more information, please contact Sarai Moore, Interim Director of Community Outreach, at [email protected] or (386) 822-8962.