The Jack and Martha Apgar Young Music Scholars Program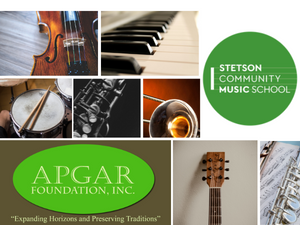 The Stetson University School of Music is pleased to announce the Jack and Martha Apgar Young Music Scholars grant award to the Stetson Community Music School beginning Fall 2022 and continuing through Spring 2023. Students who are selected to participate in this program will receive scholarship opportunities to enroll in individual music lessons and ensemble programs within the Stetson Community Music School.
As of August 2023, we are not currently accepting new applications to the Jack and Martha Apgar Young Music Scholars program. We plan to accept new applications beginning in January 2024. Interested participants are encouraged to apply at that time.
Applicant Information
Ideal candidates will have a sincere interest in developing as musicians and are able to attend a minimum of 13 half-hour lessons (one lesson per week) during the semester.
The program is open to all instrumentalists, pianists and vocalists. Vocal applicants must be 15 or older at the start of lessons.
Selected participants will also receive support for required music books.
Short video auditions are required.
Full scholarships are available.
All lessons and ensemble rehearsals take place in Presser Hall on the Stetson's DeLand campus and include a final solo recital performance held in Lee Chapel, Elizabeth Hall.
Applications will reopen in January 2024
Program History
Since 1985, Stetson's Community Music School has provided the highest quality music education to Central Floridians, especially K-12 students. The School of Music connects our program participants with faculty-recommended Stetson student teachers, degreed instructors, collegiate-level facilities, and a gateway to advanced musical study.
The Jack and Martha Apgar Young Music Scholars program will not only provide new musical enrichment opportunities for K-12 students, but it will also support the good work of our colleagues in Volusia and Seminole County Schools who guide their students' musical development. Through these strengthened relationships and support systems, we will provide the experiences and resources necessary for students to succeed as musicians, scholars, and citizens in our community.
The Apgar Foundation was founded in 2001 by Martha B. Apgar in large part to honor her late husband John Newton "Jack" Apgar. Mr. Apgar founded STS Tire and Auto Centers in the Northeast. Mrs. Apgar's family (the Browns) used to own Hotel Putnam in DeLand; many of her family members attended Stetson University, and she attended St. Barnabas Episcopal Church for years.
The foundation's purpose is to support projects that address the principles of the Apgars, including "an unswerving commitment to God, Country, Family, and Community." The foundation focuses on proposals that "celebrate…the American founding fathers' beliefs in the centrality of God, individual freedoms, limited government, and the unlimited potential of free people."
Contact
For more information, please contact Sara Scarpelli, Director of Community Outreach for the Stetson School of Music.