Individual Lessons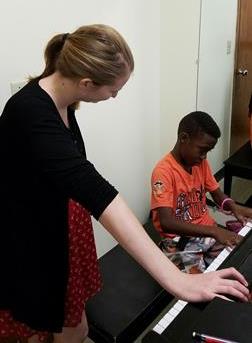 Individual lessons are the best way to learn a new instrument or advance your musical skills. Through our connection with the Stetson University School of Music, we are able to offer online lessons in an incredible array of instruments, including:
Piano
Guitar
Voice (for students 15 and older)
Flute
Clarinet
Saxophone
Trumpet
Trombone
French Horn
Tuba
Violin
Cello
You have the option to work with a current Stetson undergraduate music student, or with a professional community teacher. Either way, you will receive excellent, personalized instruction.
Registration for our full fall set (which includes 13 half-hour lessons) will be open from August 20 through September 19. After September 19, you may register for our abbreviated lesson set (8 half-hour lessons).
Please note: our lesson registration prices will increase beginning on October 10, 2022. The increase helps us ensure our commitment to providing the very best lesson instruction to our community. Thank you for your understanding.
If you're new to the Community School of Music, please contact Sara Scarpelli prior to registration to discuss which lesson plan is right for you, and to confirm instructor availability in your instrument or voice area.
Full fall tuition (13 half-hour lessons) fee until October 10, 2022: $260 with a degreed musician | $205 with a student teacher
Abbreviated fall tuition (8 half-hour lessons) fee until October 10, 2022: $170 with a degreed musician | $135 with a student teacher
Location: Presser Hall
Day and Time: Lessons are scheduled on an individual basis between each student and their teacher. Once you've registered, your assigned teacher will contact you to set up a convenient time for weekly lessons.
Program Liability Waiver and Release: Please email the completed form to

[email protected]

after registering.
Attendance and Cancellation Policy: Students must inform instructors if they'll be late or absent at least 24 hours prior to the scheduled lesson time. Makeup lessons are not provided for missed lessons without sufficient prior notice to the instructor.
Hour-long lessons are available for advanced students. Not sure if you should sign up for hour-long lessons? Talk to your teacher, or email the Sara Scarpelli, Director of Community Outreach, at [email protected].
More Information
For more information about where to park, how lessons are scheduled, our cancellation policy, and more, please check out our FAQ page.
You may also contact Sara Scarpelli, Director of Community Outreach, at [email protected] or 386-822-8962.