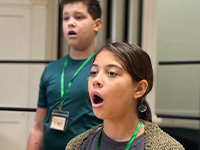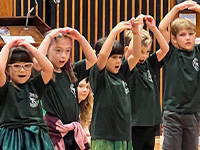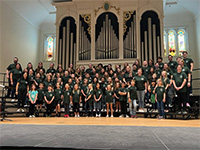 Stetson University Young Singers Program
Join us this fall!
Stetson University welcomes young singers to campus for semester-long rehearsal seasons in the fall and spring. During this season, singers will fine-tune their singing skills, grow their musicianship and thrive in an encouraging learning environment. Singers are invited to join an age-appropriate ensemble and work together to create beautiful and exciting choral music.
Choral Retreat: August 28


Discovery 5:30 p.m. -6:15 p.m.
Parents meet 6:15 p.m. -6:30 p.m.
Young Singers/Apprentice Choir 6:30 p.m.-7:15 p.m.
First Rehearsal: September 11!
Winter Concert: December 10
Spring Semester Start: January 29
Age Range
There are four ensembles divided by age that will rehearse every Monday in Presser Hall. Times and rooms are listed below.
Small Voices, for singers ages 5-7, 4:45 p.m. - 5:15 p.m.
Discovery Choir for singers ages 8-10, 5:30 p.m. - 6:30 p.m.
Apprentice Choir for singers ages 11-13, 5:30 p.m. - 7:00 p.m.
Young Singers Choir for singers ages 14-18, 5:30 p.m. - 7:00 p.m.
Typical Rehearsal Schedule
A typical rehearsal includes games, vocal technique, choral performance and rehearsal skills. We'll work on age-appropriate, correctly voiced choral literature and bring it all together on stage for an end-of-season performance. The entire rehearsal process is an enjoyable and active way for singers to improve weekly. Our program does not take the place of school or church choirs, but instead allows the singers to bring their knowledge and training back to their other ensembles.
Message to New Singers
We know that some singers start the season without knowing anyone in their ensemble, but we'll do our best to make sure they leave feeling like part of a choir family. It's our hope that your young singer will join us and grow with us, season after season. There are a lot of beautiful benefits to a multiage community-based choir. Every singer is an important part of the ensemble.
For any questions or concerns, please contact:
Melinda Fradley, Director, Stetson Young Singers
We can't wait to sing with you all!