Eugene Huskey

Eugene Huskey is Professor of Political Science and since 1999 he has held the William R. Kenan, Jr. Chair at Stetson. He received the Ph.D. from the London School of Economics and Political Science and taught at Bowdoin College and Colgate University before coming to Stetson in 1989.
Professor Huskey's interest in Russian affairs began in high school in the late 1960s when he started to study the Russian language. He spent the 1979-1980 academic year as an IREX scholar doing doctoral research at Moscow State University, and he has traveled to the region more than 20 times in the last three decades. His publications range across three areas: the Russian executive, Soviet and post-Soviet law, and politics of the Central Asian country of Kyrgyzstan. He is the author of 60 academic articles and has written or edited five books: Russian Lawyers and the Soviet State (Princeton, 1986), Executive Power and Soviet Politics (editor and contributor, Sharpe, 1992), Presidential Power in Russia (Sharpe, 1999), Russian Bureaucracy and the State: Officialdom from Alexander III to Putin (co-editor and contributor, Palgrave Macmillan, 2009) and Ecounters at the Edge of the Muslim World: A Political Memoir of Kyrgyzstan (Rowman& Littlefield, 2018). Professor Huskey is a member of the editorial board of Demokratizatsiya: The Journal of Post-Soviet Democratization (Washington, DC).
Among the courses Professor Huskey offers in the comparative or international field are Russian politics, Russian foreign policy, ethnicity and politics, and Central Asian Politics and Society. In addition, he teaches a survey of Western political philosophy, a class on comparative legal systems, a seminar on political opposition in democratic and authoritarian regimes, and a junior seminar on American populism. He received the McEniry Award for Excellence in Teaching in 2007, the John Hague Award for Outstanding Teaching in the Arts and Sciences in 2012, and he has also won Stetson's Hand Prize for Faculty Research on two occasions.
Contact Information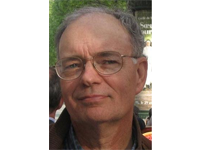 Professor of Political Science