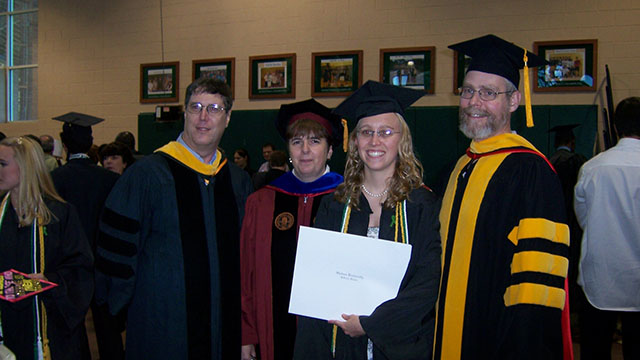 Stetson Physics
Our Students Dare to be Significant
A full 50% of our graduates in the past 10 years participated in competitive summer research opportunities.

Students work one-on-one with a faculty mentor to do professional level research as a capstone project in their senior year.

In the past 15 years,

100%

of our students who wished to pursue graduate study placed into a graduate program! ~ Those who choose not to pursue graduate study have successfully entered the work force in a wide array of careers.
Life After Graduation
One measure of the quality of our majors and our program is our ability to place them into summer research internships like the Research Experience for Undergraduates (REU) programs funded by the National Science Foundation. These are very competitive programs and they allow undergraduate students to do research with a PhD level mentor. A full 50% of our graduates from the last ten years did a summer research internship at the following locations:
Boston University

Clemson University

Florida International University

Harbor Branch Oceanographic Institution

High Altitude Observatory, Boulder, CO

Iowa State University

Laser Interferometer Gravity-wave Observatory/LIGO, California Institute of Technology

Los Alamos National Laboratory

NASA

Stetson University SURE Program

University of Florida

University of Maryland

University of Michigan
A second measure of quality is what our majors choose to do after graduating from Stetson. Students enter the program with a wide range of career interests so we should not judge one choice as being better than another, but having a high percentage of students pursue graduate degrees shows that the Department has fostered an interest in further inquiry. Thirty students graduated from Stetson in the last ten years with a major in physics. Two of those students were in dual-degree programs and also received a BS in engineering from an engineering school. Of the 28 that went through the standard physics program:
22 (79%) are known to have been accepted into graduate programs,

13 (46%) for physics or a related scientific field,

6 (21%) for engineering,

5 (18%) for other fields, mostly business,

2 student pursued degrees in both business and engineering,

2 (7%) went right to work as scientists, and one of them plans to pursue a PhD in physics in the near future,

1 (4%) went right to work as a high school physics teacher,

1 (4%) is working as a financial analyst (using physics as a liberal arts degree), and

2 (7%) we do not have information on.
A third measure of the quality of our program is the quality of the graduate schools that our graduates attend. Physics graduates from the last ten years have attended:
Auburn University

Embry-Riddle Aeronautical University

Georgia Institute of Technology

Louisiana State University

Stetson University

University of Arizona

University of Central Florida

University of Florida

University of Michigan

University of Virginia

University of Texas, Houston

Vanderbilt University

Wake Forest University

Washington University

Yale University