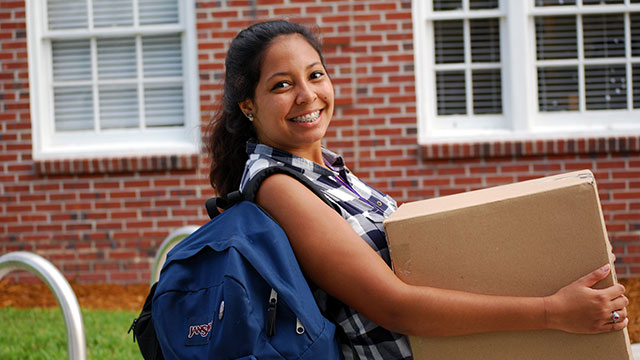 Spring Incoming Students
Congratulations! We are very pleased that you have chosen Stetson University for your educational journey. We are eagerly awaiting your arrival for the spring term and look forward to meeting all of you. The orientation schedules will be posted soon. It is very important that you make every effort to attend all of the sessions on Tuesday, January 12 and Wednesday, January 13. These days are designed to familiarize you with the services offered at the university, allow you to take care of the necessities such as getting your student ID and parking decal, and set you up for a successful transition. If you cannot attend please let our office know by Monday, January 4.
In the meantime, should you have any questions, please feel free to contact the Associate Director of First Year Experience Transition at kgraham@stetson.edu.
UPDATED! Spring 2021 Orientation - January 12-13, 2021
Orientation Modalities
To ensure all new Hatters have the ability to participate in FOCUS Orientation we will be hosting both virtual and in-person programs on January 12-13, 2021.
Check In for in-person FOCUS Orientation will take place from 9:30 a.m. - 10:00 a.m. at the Lynn Business Center. Please remember that you must complete gateway testing prior to arriving at FOCUS Check-In. Please see below for more details regarding gateway testing.
Students participating in virtual orientation will receive virtual check-in to complete. Access to each of the FOCUS Orientation webinars will be sent directly to your Stetson email address 1 hour prior to the start of each session.
In-Person Spring 2021 FOCUS Orientation Schedule
Virtual Spring 2021 FOCUS Orientation Schedule
Required COVID-19 Gateway Testing
Required testing at the start of the Spring 2021 semester, referred to as gateway testing, will be part of Stetson's COVID-19 mitigation strategy. Gateway testing on the DeLand campus will consist of mass rapid antigen nasal or throat swab testing scheduled over the course of a few days prior to the start of the semester.
Stetson community members who come to campus including employees, undergraduate and graduate students enrolled in face-to-face or hybrid classes, on-campus residents, and undergraduate commuters living within 45 miles of campus will be required to participate. Any testing conducted prior to our on-campus testing will not count towards the gateway testing requirement. No-charge testing must be completed on campus unless an exemption is requested and granted through Stetson's formalized process.
All incoming students who fit the above criteria MUST participate in gateway testing prior to their attendance of FOCUS Orientation.
For more information about gateway testing, including the appointment sign-up links visit the Safer Stetson website.
Residential Students
Stetson residence halls and apartments will open for both new and returning student for the Spring 2021 semester by appointment time only from January 10-13. Each student's required COVID-19 gateway testing appointment sign-up will also serve as his or her check-in and arrival time. Your room key will be available for pick-up at the gateway testing location, the Rinker Fieldhouse. We encourage new residential students to plan on arriving on Sunday, January 10 or Monday, January 11, though residential move-in will be available through Janaury 13.
If you have any questions related to housing, please email reslife@stetson.edu.
Commuter Students
Commuter students living within 45 miles of the DeLand campus are required to participate in gateway testing. We encourage commuter students who have the ability to complete gateway testing prior to FOCUS Orientation on January 12 to please do so. If you are unable to come to campus prior to January 12 and plan to participate in in-person FOCUS Orientation, we request you schedule your testing time prior to 9:45 a.m on January 12. All students participating in FOCUS Orientation MUST have their gateway testing completed before participating in any in-person sessions.
Helpful Links