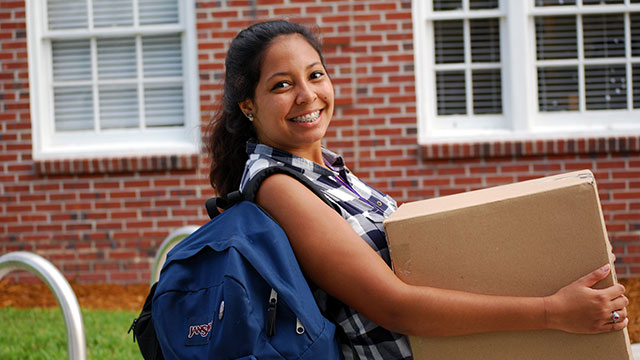 Spring Incoming Students
Congratulations! We are very pleased that you have chosen Stetson University for your educational journey. We are eagerly awaiting your arrival for the spring term and look forward to meeting all of you. The orientation schedules will be posted soon. It is very important that you make every effort to attend all of the sessions on Friday, January 10 and Saturday, January 11. These days are designed to familiarize you with the services offered at the university, allow you to take care of the necessities such as getting your student ID and parking decal, and set you up for a successful transition. If you cannot attend please let our office know by Friday, January 3.
In the meantime, should you have any questions, please feel free to contact the Assistant Director of First Year and Transition Programs at kgraham@stetson.edu.
Spring 2020 Orientation - January 10-11, 2020
Residence Student Check-in - January 9, 2020 from 10 a.m. to 2 p.m.
Incoming residential students should check into FOCUS Orientation, pick up their residence hall keys and complete other university business at the Rinker Welcome Center from 10 a.m. to 2 p.m. The FOCUS Orientation program begins with continental breakfast at 8:45 a.m. on Friday, January 10 in the Lynn Business Center, with the programming beginning promptly at 9:30 a.m.
If you have any questions related to housing, please email reslife@stetson.edu.
Commuter Student Check-in - January 10, 2020 at 8:45 a.m.
Incoming commuter students should check in to FOCUS Orientation beginning at 8:45 a.m. in the lobby of the Lynn Business Center. Our orientation programming begins promptly at 9:30 a.m.
Spring 2020 FOCUS Orientation Schedule
Helpful Links