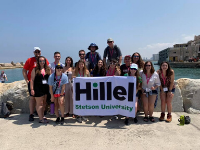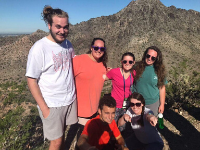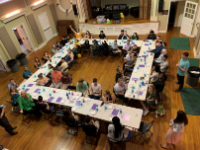 Stetson Hillel
The university's formal commitment to fostering active Jewish life on campus began in 1988, when a group of visionary Jewish students formed the first Hillel at Stetson. In 2017, under the leadership and guidance of Stetson University President, Wendy B. Libby, a concerted effort began to turn Stetson University into a school of choice for Jewish families. The decision was made that a thriving and robust Hillel was a critical first step in actualizing her vision, and the journey began.
Jewish Community at Stetson
Our new, vibrant Stetson Hillel has become the center for Jewish life on campus by welcoming, engaging, inspiring and supporting Jewish students who represent a diverse range of religious traditions and family dynamics. Our goal is to help students create meaningful entry points so they may continue to grow, both as Jews and as young adults.
Through meaningful one-on-one engagement, creative programs and holidays, and a supportive campus community, Jewish students are owning, growing, and sharing their Jewish identities.
Shabbat dinners are held weekly at the Hillel House. The Hillel Student organization also holds Jewish educational programs, holiday celebrations, community service programs, countless one-on-one conversations, hangouts and fun on Stetson's campus. Stetson Hillel has paved the way for deep Israel engagement opportunities with 15 students attending the Jewish National Fund College Summit (the largest delegation from the State of Florida) and our first Birthright trip in the summer 2019.
Through the generosity of community supporters and university administration, Stetson Hillel has been gifted with a beautiful 1920s Tudor home on campus. To date, Stetson has successfully raised over $2 million to renovate, update and furnish the Jeffrey and Diane Ginsburg Hillel House which officially opened in November 2019.
Another important addition to the expansion of Stetson Hillel was the hiring of our first full-time Hillel director in May 2018. Since that time, Stetson students have worked hand-in-hand with a full-time staff member to actualize their dreams of a Jewish community that matches the pride of Stetson and the future of the Jewish people. The next step in the vision of Stetson Hillel is to find a champion to endow our Hillel Director position in perpetuity. This will ensure that Stetson University will always have a champion for Jewish causes on campus.
Events
Information about events organized at Hillel House or by the Hillel at Stateson student organization can be found on Engage. All events are welcoming to all students regardless of background.
Shabbat is held every Friday at 6 p.m. at the Hillel House.
Jewish Holidays are celebrated on campus throughout the year.
Contact
Hillel at Stetson University Student President - Aviv Maddron -

[email protected]

Hillel House - 246 East Florence Avenue