SACSCOC 10-Year Reaffirmation Process
Overview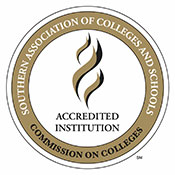 The Southern Association of Colleges and Schools Commission on Colleges (SACSCOC) is a regional accrediting body of higher education institutions in the Southern states. SACSCOC accreditation requires that an institution:
Have a mission appropriate to higher education.
Have resources, programs, and services sufficient to accomplish and sustain that mission
Maintain clearly specified educational objectives that are consistent with its mission and appropriate to the degrees it offers, and that indicate whether it is successful in achieving its stated objectives.
To maintain accreditation, the institution must complete a reaffirmation process every ten years, including the Compliance Certification report, Quality Enhancement Plan, and an on-site review. Through this reaffirmation, the institution will conduct an internal review to determine its effectiveness in fulfilling its mission, and its compliance with the requirements of the accreditation.
Timeline
May-December 2019 | Initial planning, selection of Leadership Team and Section Leaders; Distribution of Materials; Audit/Assessment of Policies and Procedures for Compliance
December 2019 | Orientation session for Leadership Team at Annual Meeting
January 2020 – August 2021 | Development of Compliance Certification and QEP
September 7, 2021 | Compliance Certification due
November 2-5, 2021 | Review by Off-Site Reaffirmation Committee
February 21, 2022 | Focused Report and QEP due
April 4-7, 2022 | On-site visit
May – September 2022 | Response Report due (if needed)
December 2022 | Reaffirmation confirmed