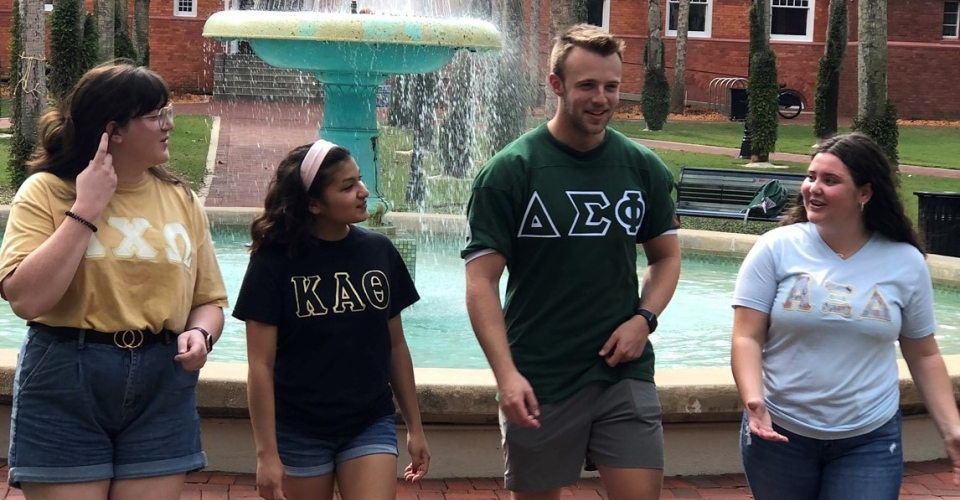 Prospective Members
Whether you are a new student or a returning student, we are excited you are interested in Fraternity and Sorority Involvement at Stetson University. Our community is full of opportunities to make friends, create meaningful experiences, and give back.
Interested in learning more?
If you are interested in learning more about the Fraternity and sorority Involvement community at Stetson University, fill out our Interest Form. We will follow up with more information and answer any questions you have.
You may hear the words "recruitment," "intake," or "rush" when you want to join a fraternity or sorority at Stetson University. It simply means the type of recruitment process that each organization uses. The different councils on our campus recruit in different ways.
Panhellenic Council has a formal recruitment process which takes place in the fall semester.
The Interfraternity Council (IFC) has an ongoing recruitment process. IFC hosts numerous events for people to get to the different fraternities on campus.
The National Pan-Hellenic Council (NPHC) has an intake process. The different chapters will host interest meetings where you can learn more about their organization and intake process.
Inter-Fraternity Council (IFC) Recruitment
Interfraternity Council recruitment is at the beginning of the semester and consists of house tours throughout the week. Men are also eligible to recruit throughout the academic year.
Panhellenic Recruitment
Panhellenic recruitment is at the beginning of the fall semester using a mutual selection process. If a chapter is able to take on more members, the chapter will be able to participate in an informal recruitment. For inquiries about organizations that participate in informal recruitment, please reach out to the Office of Fraternity and Sorority Involvement.
National Pan-Hellenic Council (NPHC) Formal Intake
Phi Beta Sigma, Inc. participates in membership intake at various times of the year. Membership intake is the preparation period preceding initiation. Most NPHC organizations require potential members to be actively involved on campus and in the community. Phi Beta Sigma, Inc. holds formal information throughout the academic year. If a student is interested in Phi Beta Sigma, Inc., they should research the organization's official website and historical background.
Membership in a fraternity and sorority chapter is limited to any student who is currently enrolled with Stetson University. Certain other requirements must also be satisfied for some councils or chapters and will be shared during the recruitment sign up process.
Joining a fraternity or sorority requires making an educated decision about the organization of which you will be a life-long member. Please utilize both the local chapter and national websites, as well as ask the following seven questions to the current members:
How will this fraternity or sorority benefit me?
What is the fraternity or sorority looking for in an ideal member?
What leadership opportunities are available for me?
Do you perform community service, and am I required to do it?
How long is the new member program, and what is the time requirement?
What is the fraternity or sorority's greatest accomplishments?
How much will it cost for membership?
Joining a fraternity or sorority is not a free experience. Members are required to pay International or National chapters, and local fees. These fees are used for many things, including chapter operating budgets, social events and dues to Inter/National Headquarters. New members generally pay more their first semester of joining, and then the dues will drop once members are initiated. During recruitment or formal intake, be sure to ask about how much an organization costs and if that chapter has any payment plans or packages for members who wish to join.
Stetson University believes that involvement in student organizations and athletic teams greatly enhances the development of college students. An organization's member educational program, if developed and conducted in an atmosphere of mutual respect with social and moral responsibility, can contribute much to the student's total education. In keeping with this principle, and in view of the possibility of abuses by student organizations at Stetson and university campuses throughout the country, Stetson University has defined hazing as "any action taken or situation created intentionally, on or off the university campus, by students or off-campus individuals to produce physical discomfort, embarrassment, harassment or ridicule." Any student or student organization that is found in violation of this policy will be subject to a review of its continued status within the university by the senior vice president and chief operating officer at which time appropriate action of the most serious kind will be taken. If at any time you feel hazing has taken place please contact the Office of Fraternity and Sorority Involvement immediately at 386-822-7208.