Greek Life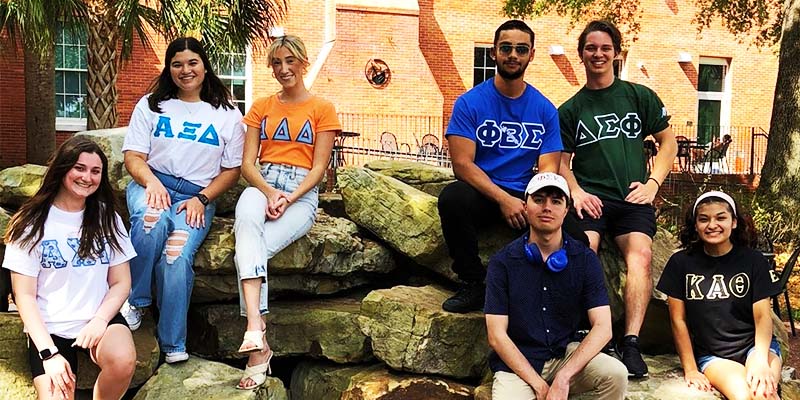 Through Greek Life, Stetson University speaks a language of leadership development, mentorship and lifelong networking — all under guidance and support from the Office of Fraternity and Sorority Involvement. A total of 17 active chapters and three governing councils create a welcoming environment that is filled with learning, growing and, of course, having fun. To join in on Greek Life, fill out the interest form below to begin your journey!
Fraternities (9) | Sororities (8)

Fraternities

Sororities
Chapters
Our current Greek community has six National Panhellenic Conference Sororities, three National Pan-Hellenic Conference Organizations, and eight North American Interfraternity Conference Fraternities.
Greek life is always growing and changing at Stetson University. As an institution, we are constantly working to provide multiple opportunities for students to be engaged in the fraternity and sorority community.
Governing council of 8 Men's Social Fraternal Organizations. The council and most of its chapters are affiliated with the North American Interfraternity Conference (NIC).
IFC fraternity recruitment is an ongoing process. The Intra-fraternity Council will host numerous events in the first couple weeks of the Fall semester for students to meet the IFC chapters on our campus.
Governing council of 3 Historically Black Fraternities and Sororities. The council and all fraternities and sororities under it are affiliated with the National Pan-Hellenic Council (NPHC).
NPHC, also known as the Divine 9, participates in an intake process to gain new members.
Governing Council for 6 Women's International Organizations. The council and all 6 Panhellenic sororities are affiliated with the National Panhellenic Conference (NPC).
Panhellenic Sorority primary recruitment will take place September 5, 2023 - September 10, 2023. In order to go through primary recruitment, you must register. Registration closes on September 4, 2023. Make sure to select "Stetson University Panhellenic Sororities."
Contact Information
If you have questions about Fraternity & Sorority Involvement at Stetson University, reach out to [email protected].