LL.M. in International Law - Admission
Please use one of the applications below. Be sure to review the instructions and requirements for your application.
Foreign applicants should also review Information for Foreign-Educated Applicants Seeking a Visa (PDF). Once accepted into Stetson's LL.M. program, foreign applicants should also submit a Financial Declaration Form (PDF).
Application Deadline
One class is admitted each August, with the preferred application deadline due by July 1 of each year. Late applications may be accepted, time and space permitting. In special circumstances, an applicant with an ABA approved law degree may be allowed to start the program in the spring semester. International Students: APPLY EARLY: It can take up to three months (or more) processing time for students to receive their student visa (F-1 visa). Note: The application fee for 2016-2017 admission has been waived.
APPLICATION CHECKLIST
Complete application form
Personal Statement
For candidates seeking the LL.M. in International Law with an emphasis in Environmental Law or International Business, please also submit a statement of no more than 1,200 words to accompany the application (in addition to the Personal Statement).
Complete official transcripts from all colleges, universities and graduate or professional schools attended
Two letters of recommendation
Additional Documents for Foreign Applicants:
TOEFL score results (minimum of 88 internet-based) or IELTS score results (minimum of 6.5)
FLSAC Credential Assembly Services (CAS)
Financial Declaration
Applicants for admission to the LL.M. program in International Law must have a strong interest in international law. Experience working in international law or related fields is helpful but not required. Applicants must also be proficient in the English language and hold a law degree from a law school accredited by the American Bar Association, or must hold a first law degree from a foreign law school approved by the appropriate authority in that country. Applicants who received their first law degree from a U.S. law school that is not, or at the time of the applicant's graduation was not, accredited by the American Bar Association may be considered for admission if the applicant (1) is licensed to practice law in at least one state within the U.S., (2) can provide a certificate of good standing from that state's bar, and (3) has a strong interest in or experience in International Law or related areas of practice.
In addition, the Faculty Committee on Admissions and Entering Awards may in its discretion, admit applicants with law or law related degrees, practicing lawyers and applicants which the Committee determines to have comparable credentials.
The Faculty Committee on Admissions and Entering Awards begins reviewing completed applications in late fall. Although applications are accepted until the July 1, we highly recommend that applicants submit their application early. Deferments may be granted for one year only, on a case-by-case basis. Requests for deferment will be considered only if made in writing to the Director of International Programs after the confirmation fee has been paid. Deferment of admission is not available to candidates admitted from the waiting list.
How to Apply
Applicants may apply through the Law School Admission Council's (LSAC) Credential Assembly Service (CAS) or with the downloadable PDF application. If you apply through LSAC, LSAC will send an LL.M. evaluation report that includes copies of your transcripts, credential evaluation, your letters of recommendation, personal statement, and if applicable, TOEFL/IELTS exam scores. The report is sent electronically to the Office of Admission at Stetson University College of Law once it is complete. You must work directly with LSAC to ensure that all items are received and processed. You may obtain Credential Assembly Service registration and information materials from LSAC at www.LSAC.org, or 215-968-1001.
Foreign-Educated Applicants
Foreign applicants must submit the legal credentials that apply in their respective countries of origin to Stetson (if using the downloadable PDF application) or to LSAC's CAS, if you are submitting your application through LSAC. All applicants must demonstrate strong academic achievement and must be proficient in the English language. All international applicants for admission who do not come from an English-speaking country or who have not attended an English-speaking school for at least three years must provide proof of English proficiency. Proof of English proficiency may be supplied by either of the following methods:
Test scores must be sent directly to LSAC from the testing agency in order to be considered official. Minimum acceptable scores are 570 on the paper-based test or at least 88 on the Internet-based test (TOEFL) and 6.5 (IELTS).
Stetson University College of Law requires LL.M. applicants to submit foreign transcripts through the LSAC Credential Assembly Service (CAS) (if you are applying through LSAC) or directly to Stetson if using the downloadable PDF application. Transcripts for all post-secondary education completed outside the United States (including its territories) or Canada must be evaluated through this service. Credentials for foreign-educated candidates who matriculate at the College of Law are forwarded from LSAC to the College of Law after enrollment. Foreign coursework through study abroad, consortium, or exchange programs sponsored by US or Canadian institutions is exempt from this requirement, provided that the work is clearly indicated on the home campus transcript. The Credential Assembly Service report is included in the Credential Assembly Service registration fee. The American Association of Collegiate Registrars and Admissions Officers will complete an international credential evaluation, which will be incorporated into your Credential Assembly Service report. If Stetson determines that a TOEFL or IELTS score is required, you must contact the Educational Testing Service (TOEFL) or IELTS to request that your scores be sent to LSAC. (LSAC's TOEFL code for the Credential Assembly Service is 8395.) Your score will be included in the international credential evaluation document that will be included in your LSAC Credential Assembly Service Law School Report.
To use the service, log on to your LSAC online account and follow the instructions for registration. Print out and promptly send a transcript request form to each foreign institution you attended, and allow ample time to receive and translate foreign transcripts. If you have questions about the Credential Assembly Service, please contact LSAC at 215-968-1001, or LSACinfo@LSAC.org.
U.S.-Educated Applicants
Transcripts: Official transcripts showing conferral of degrees from all colleges or universities you attended, including undergraduate, graduate, law and professional schools, must be sent to LSAC's Credential Assembly Service, regardless of whether you earned a degree from the institution.
Admitted students who choose to enroll at Stetson University College of Law must submit final, official transcripts showing conferral of their law degree to Stetson Law before enrolling. This applies to all students educated in the United States, its territories, and Canada.
Personal Statement and Resumes
Applicants must prepare a separate Personal Statement of up to five pages single-spaced addressing the applicant's reasons for wishing to pursue the LL.M. in International Law. The Committee is particularly interested in reading about your special accomplishments; personal, professional or academic achievements; or any other information that may help us evaluate an application and understand the applicant's interest in earning this degree. The personal statement may also be used to bring to the committee's attention any information the applicant believes necessary to evaluate the applicant's candidacy but not otherwise reflected in the application. An applicant must be sure to include his or her name on the personal statement.
Because of the limited number of seats in the program, Stetson's goal is to admit students who have some experience in international law , a strong interest in the field of international law or can identify how this program would advance their careers. Essays addressing these points are particularly helpful to the admissions committee. Please put your name and identification number (LSAC account number) at the top of each page. Candidates may also submit an addendum to explain unusual circumstances, such as grade fluctuations.
Applicants are required to submit a résumé along with their personal statement and application.
For candidates seeking the LL.M. in International Law with an emphasis in Environmental Law or International Business, please also submit a statement of no more than 1,200 words to accompany the application (in addition to the Personal Statement).
Recommendation Letters
Please assign a minimum of two letters of recommendation; a maximum of three letters will be accepted. Please use the Letter of Recommendation and Evaluation Service provided by the Law School Admission Council (LSAC.org) or have the recommenders send the letters directly to Stetson Law. Academic references are encouraged; however, we recognize that many students have difficulty obtaining academic references and will not penalize candidates if one cannot be obtained.
Notification of Application Status and Decision
Applicants will receive an email confirming receipt of their application. The Office will also inform applicants if there are missing items or if additional information is needed to process the application. When applications are complete and submitted for review, applicants will receive an email with a user name and password that allows for applicants to check their application status online and to confirm address and other contact information. Important: All decisions will be communicated via email. Decisions are not released by phone, except for US military personnel stationed abroad.
Seat Deposit
If admitted, a nonrefundable deposit of $500 is required to reserve a seat. Please note the seat deposit deadline and instructions for remitting payment on your letter of acceptance. This deposit will be credited to your tuition upon registration. Please make check or money order payable to Stetson University College of Law. Credit cards are also accepted.
Interviews and Campus Visits
The Office of International Programs conducts a personal interview with each applicant by Skype or telephone. Applicants are encouraged to visit the College of Law for a campus tour and meet with the Office of International Program's staff to learn more about Stetson University College of Law and the admissions process. Please contact the Office of International Programs for an appointment at 727-562-7651 or international@law.stetson.edu.


BAR EXAM NOTIFICATION:
Completion of the LLM degree does not qualify students to take the bar exam in the State of Florida. The LLM degree may enable students to sit for the bar in jurisdictions that allow LLM graduates to take the bar. Each state has its own regulations regarding qualification for a state bar exam and students should do their own research regarding these regulations. The National Conference of Bar Examiners publishes a yearly guide with bar information of all individual states and additional details at http://www.ncbex.org/assets/media_files/Comp-Guide/CompGuide.pdf.
Stetson University College of Law
INTERNATIONAL PROGRAMS OFFICE
1401 61st Street South
Gulfport, FL 33707
Phone: 727-562-7849
Fax: 727-231-0723
Email: international@law.stetson.edu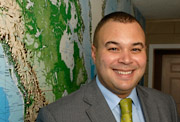 JR Swanegan, director for International Programs, recently presented a 30-minute presentation about the details of Stetson's LL.M. in International Law.
» Watch Presentation
Why Stetson Law?
"Stetson's LL.M. in International Law is providing me with a deep understanding of public and private international law, and the American legal system. I enjoy studying in the warm Florida climate with a supportive and friendly faculty and staff."
Walter Arevalo
LL.M. in International Law student
(pictured at left with Professor Jason Palmer)
---

"During my one year of graduate study at Stetson, I experienced an intense education in international business law, competition law, intellectual property law, and the principles of international taxation and international litigation ─ all viewed from a U.S. common law perspective. Stetson provided me with a solid legal education and broad legal knowledge base."
Stefan Fedunik
LL.M. in International Law Graduate
Director of Corporate Treasury, Finance and Accounting
Paulaner Brewery (Munich)
---
Students describe their experiences in Stetson's LL.M. in International Law program.
---

Stetson Law has again been ranked first in the nation for trial advocacy by U.S. News and World Report. Effective advocacy is one of a successful lawyer's most important skills, and Stetson's commitment to teaching advocacy is unmatched.