LL.M. in International Law
The LL.M. in International Law is an intensive one-year course that leads to an advanced legal degree in international law. Stetson Law's program accommodates the specialization needs of both experienced practicing attorneys and recent law school graduates from the U.S. and abroad. The curriculum is designed to prepare graduates to enter the global marketplace thoroughly prepared for positions in business, government, teaching and international law practice or related professions.
Apply Now
Stetson's LL.M. in International Law features:
Two semester, 24-credit program on Stetson's safe and friendly campus in Gulfport, Florida
Two-week introduction to U.S law for foreign attorneys
Externship opportunities and career development workshops
Flexible curriculum that allows student to focus on classes of their interest in social justice, international environmental law, international business law and the development of their legal skills
Option to pursue a mentorship via the International Business and International Environmental Law Emphasis Program
Scholarships are available for outstanding students interested in international law
Benefits of an LL.M. in International Law:
Teaches advanced knowledge and skills within international law
Gives novice lawyers a competitive edge
Provides the opportunity for mid-career lawyers to switch practice areas or expand their clientele outside the US
Leads to more interesting cross-border assignments and career opportunities
Offers access to resources, such as Career Development, professional and leadership workshops and networking events
Opens doors to new job prospects through job fairs, visiting recruiters and alumni contacts
Builds an understanding of the U.S. legal system for foreign attorneys
Increases English proficiency for non-native English speakers
Video: About Stetson's LL.M. in International Law
About Stetson Law
Founded in 1900 as Florida's first law school, Stetson University College of Law is a leader in international legal education. Stetson is fully accredited by the American Bar Association and is a member of the American Association of Law Schools. Stetson offers a welcoming environment for lawyers around the world, with renowned professors who share the knowledge and skills needed to succeed in the global marketplace.
Stetson's advocacy program is one of the best in the nation. Stetson Law is also one of the top six institutions for Legal Writing by U.S. News and World Report.
In 2016, Stetson's LL.M. in International Law program was also recognized by International Jurist magazine as one of the best LL.M. programs for Career Opportunities and for Where Students Feel Most at Home. Due to the small class sizes and our close knit community, we can offer services and give extra attention to our students personal and professional needs.
About Tampa Bay
Stetson Law is located 3 miles (5 kilometers) from the beach and minutes away from recreational parks and trails. Downtown Saint Petersburg and Tampa are just a short drive away along with numerous attractions such as Busch Gardens, Disney World, Sea World and Universal Studios.
Want to see our campus and surrounding areas?
Why Stetson Law?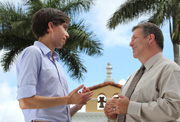 "Stetson's LL.M. in International Law is providing me with a deep understanding of public and private international law, and the American legal system. I enjoy studying in the warm Florida climate with a supportive and friendly faculty and staff."
Walter Arevalo, 2014 Graduate
UN Fellow and International Law Professor at Universidad del Rosario in Bogotá, Colombia
---