Faculty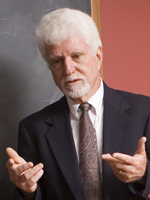 Ronald L. Hall, professor and department chair (Ph.D., Chapel Hill) is the author of two books, Word and Spirit (Indiana, 1993) and The Human Embrace (Penn State, 1999). His general areas of interest are existentialism and the philosophy of religion. His special areas of interest include Wittgenstein and Kierkegaard.
Susan Peppers-Bates, associate professor (Ph.D., University of Pennsylvania), has reviewed the Cambridge Companion to Malebranche for the Philosophical Quarterly and has published an article, "Malebranche on Efficacious Ideas" in The Journal of the History of Philosophy. Her major areas of interest are early modern philosophy, feminist philosophy, free will and moral responsibility, and philosophy of religion.
Joshua Rust, associate professor (Ph.D., University of California - Riverside) is the author of two books, John Searle and the Construction of Social Reality (Continuum, 2005) and John Searle (Continuum, 2009). He is also a coauthor of several articles in empirical philosophy concerning the behavior of ethicists as compared to other academic professionals (Mind, Review of Philosophy and Psychology). His areas of interest include social ontology, John Searle, experimental philosophy, metaphilosophy and social construction. He is also interested in the history of 20th century analytic philosophy and ancient philosophy. Joshua is the secretary/treasurer for the Florida Philosophical Association.
Melinda Hall (Ph.D., Vanderbilt University) is an assistant professor of philosophy at Stetson University. She specializes in bioethics and continental philosophy, and her research interests include the intersection of contemporary bioethics and disability studies, the ethics of human enhancement, and the social and cultural construction of disability. Her dissertation developed a critique of the notion that enhancement—especially the genetic selection of one's offspring—is a moral obligation. Her work is published in the International Journal of Feminist Approaches to Bioethics and the Disability Studies Quarterly.
Robert L. Perkins, Ph.D., Indiana University, is an international authority on the Danish philosopher, Søren Kierkegaard, and editor of the International Kierkegaard Commentary. His research interests are ethics, contemporary continental philosophy, and ancient philosophy. (386) 734-6457
Scholar in Residence
Sylvia Walsh Perkins, Ph.D., Emory University, is the author of Living Poetically: Kierkegaard's Existential Aesthetics and co-editor of Feminist Interpretations of Soren Kierkegaard. Besides Kierkegaard, her research interests include feminist philosophy, modern philosophy, and the philosophy of the passions. Dr. Perkins prepared a new translation of Kierkegaard's "Fear and Trembling" for Cambridge University Press's Texts in the History of Philosophy Series. (386) 734-6457