Susan Peppers-Bates
Associate Professor of Philosophy
Susan Peppers-Bates, PhD studied English in her undergrad before going on to study philosophy in graduate school. She has special interests in Harry Potter and the television show, True Blood.
PhD, philosophy, University of Pennsylvania
BA, English, Davidson College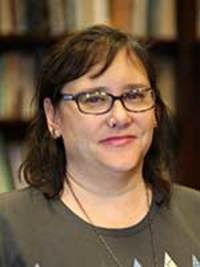 Biography
Susan Peppers-Bates specializes in early modern and feminist philosophy and the philosophy of religion. She has published popular philosophy articles on Harry Potter and True Blood, as well as the book Nicholas Malebranche: Freedom in an Occasionalist Universe. Peppers-Bates is also the director of the Africana studies minor.
More About Susan Peppers-Bates
Areas of Expertise
Feminist philosophy
Philosophy within religion and race
Course Sampling
Introduction to Philosophy
Gender Studies
Feminist Philosophy
Modern Philosophy
Philosophy of Religion
Feminist philosophy
Nicolas Malebranche
Philosophy of race, and philosophy of religion
"House Elves, Hogwarts, and Friendship: Casting Away the Institutions which Made Voldemort's Rise Possible," Reason Papers June 2012.
"A Vampire's Heart Has Its Reasons That Scientific Naturalism Can't Understand," True Blood and Philosophy (Wiley and Sons, 2010).
Nicolas Malebranche: Freedom in an Occasionalist World, Continuum Press, November 2009.
"Divine Simplicity and Divine Command Ethics," International Philosophical Quarterly December 2008.
"Efficacious Ideas, Order, and the Status of Attention," Journal of the History of Philosophy January 2005
Book review, "Steven Nadler's Occasionalism: Causation Among the Cartesians," Philosophy in Review Vol. 32, No. 3 June 2012.
Book review, "Andrew Pyle's Malebranche," European Journal of Philosophy, December 2006.
Book review, "Cambridge Companion to Malebranche," Philosophical Quarterly, April 2001
In collaboration with Rosemarie Tong, "Feminist approaches to Jurisprudence," American Philosophical Association Newsletters 94:2 Spring 1995.