Quality Enhancement Plan
The Stetson QEP, "Bridging the Gap: Enhancing Information Literacy," builds on Stetson's existing mission and values by focusing on the critical skills of information literacy, promoting academic excellence and empowering students to adopt the best practices of intellectual engagement and development in the classroom and beyond. Effective information literacy requires the ability to gather reliable, valid information. The practical outcome of the Gap plan is to teach Stetson students in their first years with us to make sense of the massive waves of information they encounter daily by encouraging a deep understanding of how information is created, transmitted, influenced, and used.
Faculty/Staff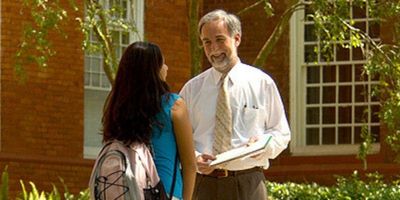 The Stetson University faculty and staff are poised to deliver an excellent education in a community that revolves around information--understanding how it is produced, valued, transmitted, influenced, and used. This section offers faculty and staff the resources needed to make the Stetson QEP successful.
Faculty/Staff Resources
Students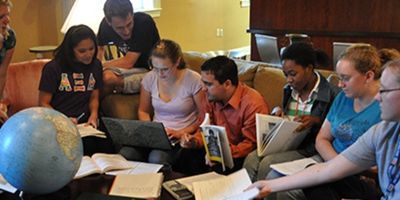 Stetson students are uniquely positioned to take part in "Bridging the Gap" by seeking out opportunities to learn about the information they take in daily. The QEP offers students G-A-P enhanced courses, specific Cultural Credit events, Writing Center and Library workshops focusing on a range of aspects, and more. This section offers students the resources needed for success. More resources coming soon.
Student Resources
QEP/G-A-P Information
The QEP will first identify 100- and 200-level courses that already tacitly target the critical skills of information literacy and critical analysis, and then to enhance those courses by supporting faculty through resources and training on best practices in course redesign and engaging, effective assignment-building. Some QEP efforts will facilitate a complete course redesign while others will support the implementation of pedagogical strategies within the existing framework of the course. The QEP will also create space to refine existing mechanisms for assessment of these skills by means of its focus on Presentation, understood here to encompass both written and oral contexts.
"Bridging the Gap: Enhancing Information Literacy for Critical Thinking" offers several obvious benefits for faculty and staff. Chief among them is a better prepared student population, but faculty and staff at Stetson can also benefit from engagement with the program. Events, support resources, and consultation with a range of in-house experts can help faculty and staff make more intentional choices, knowing that they are armed for success. .
Academic success rests on a foundation of truth, integrity, and curiosity--features of the Gap program that arise from continued and refreshed methods for teaching and learning. Students who understand this foundation in specific new ways are students who are more keenly aware of how, when, and why information is created and valued--and this is a set of deeply important skills that provide a consistent, methodologically sound approach to handling the waves of information students encounter at every level of their lives.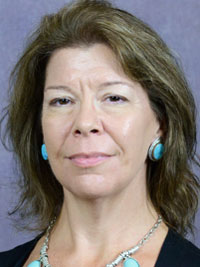 Stetson's QEP Director is Megan O'Neill, PhD, who holds a tenured line in the English Department. Megan has been at Stetson since 1999, starting as Director of the Writing Program. Since then, she has worked to develop a campus that prides itself on student writing, starting with the First Year Seminar and implementing a Writing Across the Curriculum program in 2016. As a long-time member of the university's assessment program, Megan has served on the University General Education Committee for over 10 years. She is an advocate for using writing to lift other critical skills at the University, and she has partnered with the duPont-Ball Library staff and faculty in connecting writing and information literacy for seven years. The appointment as QEP Director is an exciting opportunity to help Stetson bring renewed focus to the core critical literacies that are key to a liberal arts education.
Reach out at [email protected]