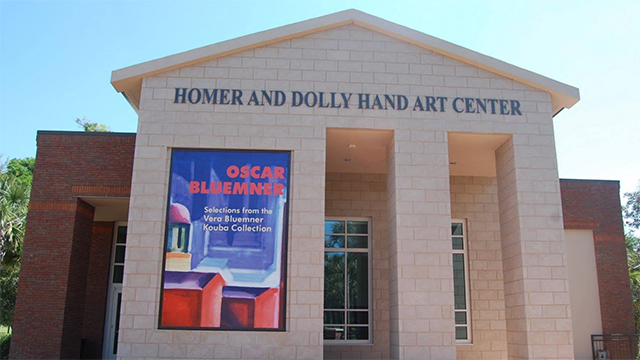 The Homer and Dolly Hand Art Center
The Homer and Dolly Hand Art Center is a 5,000 square foot facility on the campus of Stetson University designed to house and exhibit the University art collection. The art center includes two galleries and a foyer gallery, a state-of-the-art collections vault, a preparation area and a seminar room used for classes and study.
The Hand Art Center presents up to 8 unique art exhibitions each year, with accompanying programming including workshops, lectures, panel talks and receptions.
Exhibitions at the Hand Art Center include at least two curated showings of the work of Oscar Bluemner, the all-student juried art show, and the final projects of the graduating Seniors from the Creative Arts department. Other exhibitions and art viewings are curated from the University Collection, from other academic museums and occasionally from regional or local artists.
Staff
Natália Marques da Silva, PhD, Director of Hand Art Center
Connect with the HAC