Yves-Antoine Clemmen
Professor and Chair of World Languages and Cultures (French)
PhD, comparative literature, University of Illinois
MA, comparative literature, University of Illinois
Agrégation de l'enseignement secondaire supérieur, Université de l'État à Liège
Licences de Philologie Germanique, Université de l'État à Liège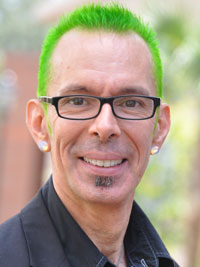 Biography
A native of Belgium, Yves-Antoine Clemmen grew up in the French-speaking region of Charleroi. He learned Dutch, Latin and English in high school (Athenée royale de Marcinelle) where he was also a math major. He went to college in Namur and in Liège, and completed a Master's degree in Germanic Philology with a thesis on Anglo-Saxon poetry before studying in the U.S., first at Washington University in Saint Louis, Mo., and then at the University of Illinois where he completed a PhD in comparative literature. He has been a faculty member at Stetson University since 1992. He also teaches yoga at the Yoga Shed in DeLand.
More About Yves-Antoine Clemmen
Areas of Expertise
Belgian Writer Amélie Nothomb
Grand-Guignol Theatre
French and General Linguistics
Course Sampling
Reading Photography
Introduction to general linguistics
French Linguistics
Elementary French II
Intermediate French I
Narratology
Contemporary French novel, word and image studies
Theory of photography
Belgian writer Amélie Nothomb
Grand-Guignol Theatre (French theatre of horror 1897-1962)
"Stupeur et Tremblements : La lecture du cinéma," Lehman and Grieb Ed. Cultural Perspectives on Film, Literature, and Language. Boca Raton: Brown Walker Press, 2010. 57-69
"Où a quand même lieu la littérature française: Amélie Nothomb à la rentrée littéraire 2005," Journal of Contemporary French and francophone Studies: Sites. November 2007.
"Peut-être un peu monstrueux, peut-être un peu différent," (lecture d'une nouvelle d'Amélie Nothomb). Parallèles II : Ecrits de monstres/ Monstres Ecrits. Québec: Instant-Même, 2007.
"Discursive Spaces in Photography," Encyclopedia of Twentieth Century Photography. New York: Routledge, 2005.
"Rosalind Krauss," Encyclopedia of Twentieth Century Photography. New York: Routledge, 2005.