Yohann Ripert
Assistant Professor of French
Yohann C. Ripert is Assistant Professor of French and Francophone Studies in the Department of World Languages and Cultures as well as a Faculty in the Honors Program at Stetson University.
PhD French and comparative literature, Columbia University
MPhil French and comparative literature, Columbia University
MA French and romance philology, Columbia University
BM piano performance, The Juilliard School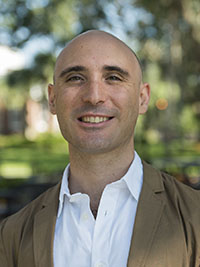 Biography
Yohann Ripert is currently completing two projects: the first is a book translation of the posthumous volume of Leopold Se'dar Senghor's essays on education and culture, entitled Education & Culture (Paris: Presence Africaine, 2013); the second is a monograph entitled Global Negritude: Confidential Conversations Across the Ocean. Global Negritude explores a set of recently declassified cables that reveal how Le'opold Se'dar Senghor engaged with Cold War cultural politics to strategically transform vestiges of colonial exploitation into postcolonial weapons.
Committed to public service, Ripert also worked as a translator and interpreter for the United Nations Permanent Forum on Indigenous Issues from 2013 to 2016, was an International Fellow at Columbia's School of International and Public Affairs and a French-American Next Generation fellow at the Consulate of France in New York. In addition to his academic career, Ripert is a concert pianist and graduate of The Juilliard School. He has appeared as a soloist with the Manhattan Chamber Orchestra, the Juilliard Lab Orchestra, the New Juilliard Ensemble and as a chamber musician in prominent festivals such as Focus!, ChamberFest and Kneisel Hall. A champion of Spanish music, Ripert has performed the entire Iberia cycle by Albeniz as well as the complete piano music by Manuel De Falla throughout the United States, Europe and Asia.
More About Yohann Ripert
Areas of Expertise
French and Francophone Literature
West African Literature and History
Moral and Political Philosophy
Aesthetics
Course Sampling
French and Francophone Cinema
Revolutions in an Era of Globalization
French Practicum - Translation in Theory and Practice
Advanced French - The Francophone World
Elementary French
West African Literature and Philosophy
Transatlantic Intellectual History
Francophone Literature
History of Globalization
Senghor and the Enlightenment, Journal of African Philosophy, Spring 2015.
Marc Lynch, The Arab Uprising: The Unfinished Revolutions of the New Middle East (Washington, D.C: PublicAffairs Press, 2013) - Columbia University Journal of International Affairs, Fall 2014.