Susanne Eules
Visting Assistant Professor
I am a German American transdisciplinary artist in the fields of language, music, performance and visual arts. My work explores the intersection of culture, identity, nature, and memory across languages. For my poetry and prose, I have received various grants, literary awards and residencies in Germany, Austria, Canada, and the United States. My work has been published in literary and exhibition venues in Germany, Switzerland, Austria, Canada, the United Kingdom and the USA.
PhD, German Studies, with minor in Art History and Musicology, University of Freiburg/Br., Germany.
MA, Elementary and Secondary Education, University of Education, Freiburg/Br., Germany.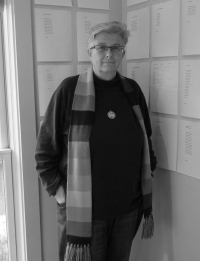 More About Susanne Eules
Areas of Expertise
Contemporary Art
Literature and Poetry
Photography
Film
Oscar Bluemner
Baroque Recorder
Course Sampling
German Language and Culture
Italian Language and Culture
Gender Studies and Film
Art History Survey II
Photography and European Culture through Film
Art and Gender
Contemporary Art and Poetry
Contemporary art and poetry
Performance
Translation all in LGBTQI, BIPOC, ex-gendered and experimental context
Books of Poetry in English and German
Nivolog, Contraband Books, Groningen, Netherlands, December 2021, contrabandbooks.co.uk
Nivolog, chapbook Ethel, Philadelphia, ethelzine.com, April 2022
Lie'vre - a book of hares, chapbook dancing girl press, Chicago, Fall 2018
Der kønig.innen hasen hůten, edition art science, St. Wolfgang, Austria, 2016
Ůbern růckn des atlantiks/den rand des nachmittags (across the ridge of the atlantic/the edge of the afternoon), FIXPOETRY.verlag, Hamburg, Germany, March 2012
Literary Translations
Harryette Mullen's Trimmings, S*PeRM**K*T, Muse & Drudge (published as Recyclopedia, Graywolf Press, 2006).
Publications
2022 in the claude glass, in Tre's Mall, an animated series featuring writers on topics in philosophy, activism
and the environment created by the artist Derek G. Larson. Episode 7 Walter Benjamin's Arcades
PROJECT [APRIL 2022] Featuring: Carl Safina, Duy Lap Nguyen, Francesco Casetti, Peter Knutson, Susanne
Eules. Screenings: Westobou Project Commission, Morris Museum, Augusta GA, Swatch Art Peace
Hotel Fellowship, Shanghai China
2021 3 poems and excerpt from palimpseste, porzellanisch, in: Prolog, Heft für Zeichnung und Text, Nr. 22, Berlin, p. 23 and p. 61
2020 excerpts from shut ups, in: Prolog, Heft für Zeichnung und Text, Nr. 21, Berlin xyu (shortlist for Gertrud Kolmar Award, Germany 2019)
Sky study with prime verbaerial estate on ] [ mind, in Pamenar Press prelude (from in Johann Caspar Schiller's orchard: dancing an apple suite), in Becoming Plant, Sound Art Radio, curated by Camilla Nelson, UK
Trigonometry, in: Mellom press
Sos, downtown, wynwood (excerpts from Miami t:ex[i]ting), in: Prolog, Heft für Zeichnung und Text, Nr. 20, Berlin, p. 63
2019 birchen, in: Radical Landscapes: Innovation in Landscape & Language Art (22nd March -23 April 2019), curated by Camilla Nelson, singing apple press, Wiltshire, UK
2018 off shore (Auszug aus Miami t:ex[i]ting), in: STILL 6, Berlin und New York City, May
Camera obscura (excerpts), in: miniatures and the portfolio collection, Gazing Grain Press, March
In the claude glass, such fun, thamnocoloi at spychernplatz, berlin, hybrids : sustain your energy, in Essays in World Languages and Literatures: Stereotypes and the Challenges of Representation Selected
Proceedings of the 22nd Southeast Conference on Foreign Languages, Literatures, and Film Celebration, Florida. February 25-27, 2016 Edited by Yves-Antoine Clemmen, Margit Grieb, and Will Lehman Brown
Walker Press 2017, p. xii-xiii and p. 181-183
Exhibitions
2019 birchen, print on birch bark, Radical Landscapes: Innovation in Landscape and Language Art, The Plough Gallery, Torrington, Ex, Great Britain, Group Exhibition
2016 Solo Exhibition i.skåte, Works on Paper, Blake Elliott Gallery, DeLand
2015 erutru : nurture, Mixed Media on paper, Atlantic Center For The Arts, New Smyrna Beach, Charlotte
Battle Everbach Painting Studio, October
Walden Kunstausstellungen, Prenzlauer Berg/ Berlin, Germany, Group Exhibition
2013 Photography (accompany to Oscar Bluemner's sketches) Oscar Bluemner's Germany: Juxtaposing
Jerichow, Hand Art Center, Stetson University, DeLand, Florida, January 25 - April 29
2013 Power Den Eichhørnchen, Kunstverein in Heringsdorf, Usedom, Germany, group exhibition