Snezhana Zheltoukhova
Visiting Assistant Professor and Language Commons Director
Snezhana Zheltoukhova teaches Russian as a world language and researches a sociocultural approach to second language acquisition.
PhD, second language acquisition and Russian, University of Wisconsin-Madison
MA, Russian and Slavonic studies, University of Missouri-Columbia
BA with high distinction, theoretical and applied linguistics and teaching Russian as a second language, Moscow (Lomonosov) State University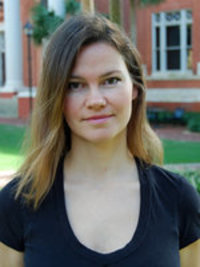 Biography
Snezhana Zheltoukhova, PhD, has been teaching Russian as a world language since her graduation from Moscow (Lomonosov) State University. For a decade, she continued teaching the language and culture at Carleton College, Pomona College, Beloit College, University of Missouri-Columbia, Indiana University Bloomington, and the University of Wisconsin-Madison. Zheltoukhova has been Visiting Assistant Professor of Russian and Director of Language Commons since 2017. Her research interests are within the field of second language acquisition and pedagogy, specifically world language tutoring, analysis of discourse and interaction, sociocultural theory, and technology-mediated language learning.
More About Snezhana Zheltoukhova
Areas of Expertise
Teaching Russian as a second language
L2 tutoring classroom interaction
Computer-assisted language learning
Course Sampling
Elementary Russian
Second-Year Russian
Intermediate Russian Conversation and Composition
Advanced Russian Conversation and Composition
Qualitative research methods
CA-for-SLA
L2 tutoring and intercultural competence
Technology-mediated language learning
Socio-interactional development in L2
Preparation for the study abroad: The action-oriented approach fro RFL students (forthcoming). In C. Martin & S. V. Nuss (Eds.), Student-centered approaches to Russian language learning: Insights, strategies, and adaptations. Routledge series on Russian language pedagogy and research.
Developing Global Competence through Task-Based Instruction, 2022,
In S. V. Nuss & W. W. Martelle (Eds.), Task-based instruction for teaching Russian as a foreign language. New York, NY: Routledge.
Language Learning in a "Fishbowl" Environment: Working with Student Perceptions of Videoconferencing, 2021. In W. Lehman, M Grieb, & Y. Clemmen (Eds.), Work and Labor in World Languages, Literature, and Film. (pp. 103-114). Irvine, CA: Brown-Walker Press.
Book review. 2019. Faces of Contemporary Russia: Advanced Russian Language and Culture. Olga M. Mesropova. Russian Language Journal, Vol. 69, 169-171
Foreign Language Tutoring Social Dynamics in Action, 2018. Conference Proceedings, Society and Languages in the Third Millennium: Communication. Education. Translation, 2018, 268-284
Book review. 2018. Integration, Identity and Language Maintenance in Young Immigrants: Russian Germans or German Russians. (Ed.) Ludmila Isurin and Claudia M. Riehl. Slavic and East European Journal, Vol. 62.4, 600-602
Implementing Internet Technologies for Deep Language Learning, 2017, 278-304. In F. V. Tochon & D. Busciglio (Eds.), Deep Education from the Disciplinary to the Transdisciplinary. Blue Mounds, WI: Deep University Press.
Developing Intercultural Competence at Novice Level: Deep Approach to Russian (co-authored with Nesterchouk A. and Akkaziev J). 2017, 260-277. In F. V. Tochon & D. Busciglio (Eds.), Deep Education from the Disciplinary to the Transdisciplinary. Blue Mounds, WI: Deep University Press.
Reflections on the SWSEEL Russian Program from a Sociocultural Perspective: Challenges and Benefits (Co-authored with Martina Barnaš) Working Papers in LCLE 3, 2014, 112-126.
Student and Tutor Perspectives of Tutoring in a Russian Flagship Program, (co-authored with Murphy D. & Evans-Romaine K.) Russian Language Journal 62, 2012, 107-127.