Peter Smucker
Assistant Dean of the School of Music Associate Professor of Music Theory
Peter Smucker currently serves as the Assistant Dean of the School of Music at Stetson University, overseeing all core music theory, aural training, and functional keyboard courses. Recent research topics include pitch-class set combinatorial processes in the music of Elliott Carter, and sonic representations of alcohol in video games and multimedia.
PhD, music theory, University of Chicago
MA, music theory, University of Minnesota
BME, music education, Valparaiso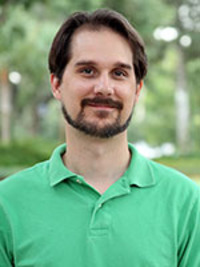 Biography
Peter Smucker joined the Stetson faculty in 2015 as Assistant Professor of Music Theory. He teaches core music theory courses, functional keyboard, Baroque counterpoint, aural training and advanced analytical techniques. He has overseen senior music theory research projects that include comparative analyses of musical themes in Superman films, textual and harmonic considerations in Gustav Mahler's Rackert-Lieder, and spectralism in the music of Gérard Grisey. Prior to his appointment at Stetson, he held visiting and lecturer positions at the University of Notre Dame, the University of Chicago, Valparaiso University and the University of Minnesota. Smucker was previously a band director in Indiana, teaching high school and middle school concert, marching, and jazz bands. Smucker's research interests focus on music of the 20th and 21st centuries, post-tonal music in the United States, Ludomusicology, music theory pedagogy, intersections of society and music and multimedia, works by American composer Elliott Carter and transformational theory.
Smucker has presented regionally and nationally at the Society of Music Theory, Music Theory Midwest, Music Theory Southeast, Music and the Moving Image, the Midwest Chapter of the Society for Ethnomusicology, the North American Conference on Video Game Music and most recently at the Ludomusicology conference in Leipzig, Germany. Dr. Smucker's research presentations is wide-reaching, including listener-sensitive approaches to Elliott Carter's late chamber music, the role of Beethoven's music in video games, expressive timing in barbershop quartets, Appalachian folk music and the supernatural, and a lecture-recital on Elliott Carter's songs. He is the Director of Music Theory and supervises the Music Tutors in the School of Music. He also serves on the Africana Studies Committee and Academic Technology Committee. Professionally, he is on the editorial board for the "Video Lectures, Performances & Lecture-Recitals" component of College Music Symposium, and free-lances by setting musical scores and Schenkerian graphs for various music publishers, including Cambridge University Press and W.W. Norton and Co.
More About Peter Smucker
Areas of Expertise
Elliot Carter
Music Theory
Transformational Theory
Ludomusicology
Course Sampling
Music Theory
Baroque Counterpoint
Functional Keyboard
Senior Music Theory Research
Aural Training
Advanced Analytical Techniques
Music of Elliott Carter
20th/21st century post-tonal music
Music and multimedia
Ludomusicology
Music theory pedagogy
Transformational theory