Nandu Muley
Adjunct Professor of Music, Indian Music
Nandu Muley is a well known musician throughout western India. Winning a German Grammy Award is among one of his many great accomplishments.
MA, Maharaja Sayajrao University, Baroda
Diploma in tabla and vocal music, Maharaja Sayajrao University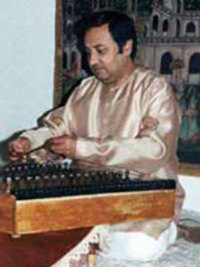 Biography
Nandkishor Muley, or Nandu, as he is known to the Western public, is an adjunct professor at the Stetson University School of Music. He teaches Introduction to Indian Music. He comes from a family of traditional musicians in Baroda in western India, who transmitted the tradition of Kathakar (or Kirtenkar). Muley's grandfather was a Kirtenkar, reciting and singing mythological tales in the temple. His father, Dattatreya, was a highly regarded vina player (a lute-like instrument) and taught vocal arts at the Maharaja Sayajirao University of Baroda. Muley began his musical training at an early age with his father as well as with his uncle (Shrikant Muley, professor of sitar at the same university), who taught him Indian classical vocal arts and tabla. He notes the importance of singing to traditional Indian instrumentalists, since their goal is to make the instrument "sing" -- by studying the vocal arts, an instrumentalist learns how to present the raga and how to "put the notes and intervals together."
Under the guidance of Pandit Sundarlal, Muley also studied the classical North Indian dance kathak, making him the first in his family to have studied dance and music together. As he observes, the word for music, Sangit, actually means "vocal and instrumental music and dancing." Dance is conceptually not separated from the music, and its rhythm has affected his musical improvisation. He received his master's degree from Maharaja Sayajrao University in Baroda as well as a diploma in tabla and vocal music.
Fascinated by the santur playing of the virtuoso Pandit Shivkumar Sharma, Muley decided to learn the instrument. Eventually, he went to Bombay in order to study santur full-time with his guru. After finishing his santur training, he was awarded the prize of "Surmani" ("Diamond of Notes") from the Sur Singar Samsad Music Association (Bombay, 1975-1976). Muley has been one of his guru's senior-most disciples and has benefited tremendously by virtue of the close rapport they share. His association with the late Acharya K.G. Ginde while on the faculty of Vallabh Sangeetalaya, Bombay opened new horizons for him. Muley's santur playing acquired the full-bodied singing style (Gayaki) dimension of this senior vocalist. He has evolved a style of his own.
Currently based in Berlin, Muley is active in the teaching of Indian musical arts and in spreading Indian culture throughout the European continent. He has performed in the Festival of India in Berlin and throughout Germany, in the World Music Festival in Helsinki, and in many other major musical events. Several of these performances have been recorded for radio broadcasts. An officially recognized musician for All-India Radio, he also spends several months of each year performing and teaching in India. Through his performing and teaching activities, Muley has become recognized as a leading proponent of the santur.
In 2001, Muley was awarded the Excellent Art and Cultural Educator award from United Arts of Florida for his contribution of Indian music and culture to various Florida schools and universities. In 1994 he won the German Grammy Award, and in 1995 was nominated for best instrumentalist for the Diva Music Award from India Music Industries in Bombay. Since 1994, he has been teaching Indian music in the Central Florida region, sponsored by the Asian Cultural Association (ACA), Rollins College and Stetson University. At home in India, he is an accredited santur artist on the All-India Radio, Akashvani network as well as Doordarshan. Every year he spends a few months in India teaching and performing at various festivals or for cultural organizations.
More About Nandu Muley
Course Sampling
Introduction to Indian Music