Mary Sanders Pollock
Professor of English
Dr. Pollock has a wide variety of interests including literature, writing about nature and gender studies.
PhD, English, University of Texas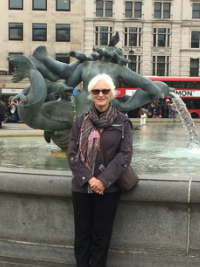 Biography
Academic disciplines need to talk to each other beyond and outside what academics usually call "interdisciplinary" In a time of global incineration and polluted oceans, every human on the planet needs to become scientifically literate. Literacy in the humanities is just as important: literature and the arts deepen our understanding of the human connection to one another and all living things. Nothing is easy. You have to walk in the forest to know why the forest is essential and how you are part of the forest.
More About Mary Sanders Pollock
Areas of Expertise
Nineteenth-Century British Literature
Science and Nature Writing
Animal Studies
Literary Theory
Gender Studies
Course Sampling
Nineteenth-Century British Literature
Nature Writing
Animal Studies
Literary Theory
Courses in writing, editing, and film
My current research is the travel and environmental writing of Gerald Durrell, whose childhood on the Greek island of Corfu has been the topic of a recent PBS series. After Durrell's death in 1995, his foundation has continued captive breeding programs carried out at the Durrell Wildlife Park on the Isle of Jersey. Over the years, many of the species bred there have been successfully reintroduced into original habitats and endangered wild populations.
Books:
'Storytelling Apes: Primatology Narrative Past and Future' (2015)
'Victorian Literature and Film Adaptation' (Co-Edited with Abigail Burnham Bloom (2011)
'Figuring Animals: Essays on Art, Literature, Philosophy, and Popular Culture) (Co-edited with Catherine Rainwater, 2005)
'Elizabeth Barrett and Robert Browning: A Creative Partnership' (2003)