Martin Blackwell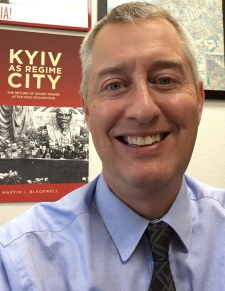 Visiting Professor of History
I grew up in Shaker Heights, Ohio and have become a fluent Russian speaker over many years. After completing my undergraduate degree at Kenyon College, and both prior to and after the completion of my Ph.D. in History at Indiana University, I lived and worked for almost a decade in the Russian cities of Moscow, St. Petersburg and Volgograd, while also getting a chance to reside in Kyiv and L'viv in Ukraine and Almaty and Atyrau in Kazakhstan. I teach courses on Eurasian history and other broader courses such as my current FSEM dedicated to ancient and medieval history both East and West.
PhD, history, Indiana University, 2005

BA with Honors, history, Kenyon College, 1992
Course Sampling
The Russian Empire
Modern World Civilizations
Freedom's Turn: The Axis Age of 500 BC
Areas of Expertise
Russia

Central Asia

The Caucasus
Biography
Member, Association of Slavic, East European and Eurasian Studies (ASEEES)
Member, Southern Conference on Slavic Studies (SCSS)
Research
Blackwell's research focuses on life in the former Soviet Union from the beginning of the Second World War in 1939 until that country's collapse in 1991. His recently published monograph examines the relationship between the ruling Communist Party and the people of Kyiv, Ukraine following the Nazi occupation. His current project examines expectations for change in Leningrad in the late 1980s. Blackwell is also an active member on the Editorial Board of the St. Petersburg-based journal *Modern History of Russia*.
Publications
"Kyiv as Regime City: The Return of Soviet Power after Nazi Occupation", (Rochester, NY: University of Rochester Press, 2016)

.