Laura Kirkland
Associate Professor and Catalog Librarian
MA, English, Stetson University, 2002
MA, library and information science, University of Iowa, 1990
BA, English, Luther College, 1988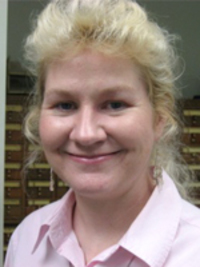 Biography
As cataloging librarian, Laura Kirkland oversees all materials added to the library's online catalog. She supervises the processing and mending of all library books and materials and also manages the library's electronic journal subscriptions.
She oversees library materials purchase requests from the faculty, distributing book reviews to faculty for possible library book purchases on a regular basis.
Currently a member of the university's International Learning Committee, UCCAP Committee, and Gender Studies Committee, she also chairs the Library Research Prize Committee. She has also served as editor of the Florida Library Association News Digest and chaired the Northeast Florida Library Information Network Tech Services Interest Group.
More About Laura Kirkland
Areas of Expertise
Library and information studies
English
Along with Debbi Dinkins, Kirkland presented a paper at the International Conference of the Book in Regensburg, Germany in September 2013: "An Uneasy But Powerful Alliance: Faculty Use of e-books." An article (written with colleague Jean Wald) detailing the results of their faculty survey was published in The International Journal of the Book in 2014.
Her current research interest involves detailed evaluations of the usage of the library's physical resources (books, videos and CDs).
"Assessing the Work of Technical Services Through an In-Depth Analysis of Physical Resource Usage." In Library Technical Services: Adapting to a Changing Environment. Purdue University Press, 2020. 85-104.
"Assessing the Benefits of Content Notes Enhancements for Electronic Music Resources." (co-authored with Jean Wald). Cataloging and Classification Quarterly December 2017.
"A Powerful but Uneasy Alliance: Faculty Use of eBooks" (co-authored with Debbi Dinkins and Jean Wald). The International Journal of the Book 11 (3): 2014.
"The Relationship of Metadata to Item Circulation." Cataloging and Classification Quarterly 51 (5): 2013.
"It's What's Inside That Counts: Adding Contents Notes to Bibliographic Records and the Impact on Circulation" (co-authored with Debbi Dinkins). College and Undergraduate Libraries 13 (1): 2006.
"Resources for Catalogers: An Annotated Bibliography." Cataloging and Classification Quarterly 40 (1): 2005.