Kirsten Work
Professor of Biology
Before arriving at Stetson, Dr. Work did postdoctoral work on the carbon dynamics of the Lake Okeechobee food web, including bacteria, protozoa, rotifers and zooplankton. View her blog for more on these topics.
Postdoctoral research associate, South Florida Water Management District and Florida Atlantic University
PhD, zoology, University of Oklahoma
MA, fisheries, University of Washington
BS, biology, University of Wisconsin-Madison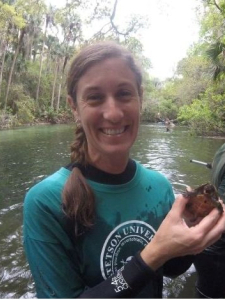 Biography
Kirsten Work's passion for aquatic ecology and conservation began in the University of Wisconsin's Limnology Laboratory working as a lab tech on fish predation studies. This training led to master's research on sockeye salmon fry predation on zooplankton in SW Alaska and dissertation research on exotic zooplankton in southern Oklahoma. During her dissertation research, she also worked on side projects on cyprinid fishes and freshwater mussels. Finally, before arriving at Stetson, she did postdoctoral work on the carbon dynamics of the Lake Okeechobee food web, including bacteria, protozoa, rotifers and zooplankton. This wide array of experiences has given her a broad perspective geographically and taxonomically. At Stetson, she has worked on spring ecology, primarily at Volusia Blue Spring, with projects on algae, snails, fish ecology and the effects of invasive snails and fish on ecosystem function. She also has worked on the ecology of local lakes, as central Florida is one of the areas of the country with the highest densities of lakes due to its karst (limestone) geography. In her courses, she regularly collaborates with students on community-based research projects in which students apply the knowledge they gain in class to real world problems proposed by local resource managers. These various projects have resulted in publications and attendance at conferences with Stetson students.
More About Kirsten Work
Areas of Expertise
Freshwater biology
Lake species
Course Sampling
Introductory Biology II
Biostatistics
Limnology
Conservation Biology
Freshwater spring ecology: algae, snails, fish limnology (lake ecology), bacteria, protozoa, zooplankton, fish
Freshwater conservation
The effect of disturbances, particularly invasive species, on aquatic ecosystem function
Work, K. and C. Mills. 2013. "Rapid population growth countered high mortality in a demographic study of the invasive snail, Melanoides tuberculata (Müller, 1774), in Florida." Aquatic Invasions 8(4): 417-425.
Havens, K. E., Beaver, J. R., East, T. L., Work, K., Phlips, E. J., Cichra, M. F., Croteau, A. C., Rodusky, A. J., Fulton, R. S., and Rosati, T. C. 2012. "The outcome of the invasion of Florida lakes by Daphnia lumholtzi." Freshwater Biology 57(3): 552-562.
Work, K. A., Gibbs, M. A., Peters, B., and French, L. 2010. "Fish assemblage patterns and variability in a Florida Spring." Southeastern Naturalist 9(4): 649-672.
Cox, S., Chandler, S., Barron, C., and Work, K. 2009. "Cryptic color change in small freshwater fish." Journal of Ethology 27: 497-505.
Work, K. A., Havens, K.E., Sharfstein, B., and East, T. 2005. "How important is bacterial carbon in the planktonic food web of a turbid, subtropical lake?" J. Plankton Research 27: 357-372.
Work, K. A. and Havens, K. E. 2002. "Zooplankton grazing on bacteria and cyanobacteria in a eutrophic lake." Journal of Plankton Research 25: 1301-1307.
Havens, K. E., Work, K. A., and East, T. L. 2000. "Relative efficiencies of carbon transfer from bacteria and algae to zooplankton in a subtropical lake." Journal of Plankton Research 22: 1801-1809.